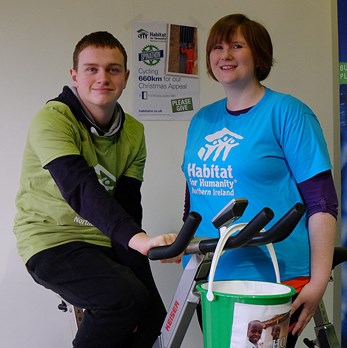 Adam (16), student at Slemish College, recently started volunteering with Habitat ReStore, the low-cost DIY store that builds hope and homes. Adam's parents felt that volunteering in the new ReStore would help Adam, who has Aspergers Syndrome, improve his social skills and gain work experience.
Adam enjoyed volunteering and wanted to do more to support Habitat's work by taking part in the spinathon in Habitat ReStore. "There are lots of people in the world who need homes and Habitat for Humanity help them, so I like to know that I'm helping them too," said Adam.
With the help of family and other volunteers, originally Adam hoped to cycle 660km and raise £660 to support Habitat's life-changing work. In Ethiopia, just £66 could buy a solid iron front door for a Habitat home, which is vital to keeping families safe and secure.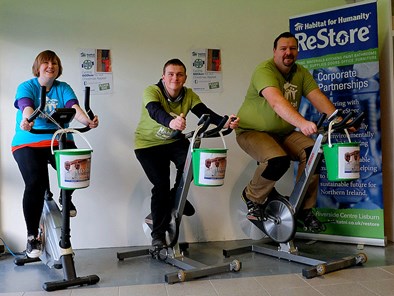 In the end Adam and team cycled over 800 km and, to date, have raised £1354, which is enough to buy front doors for the homes of 20 families in Ethiopia.
Jenny Williams, Chief Executive of Habitat NI said: "Adam is amazing – we so much appreciate his passion and support, and that of the wider community. This generosity will make a lasting, positive difference in communities where families urgently need of place to call home. Thank you to all involved."
Habitat ReStore is located at Bridge Park, Larne Road, Ballymena (beside Dunelm) and is open Wednesday – Saturday, 9am-5pm. Find us on Facebook here.