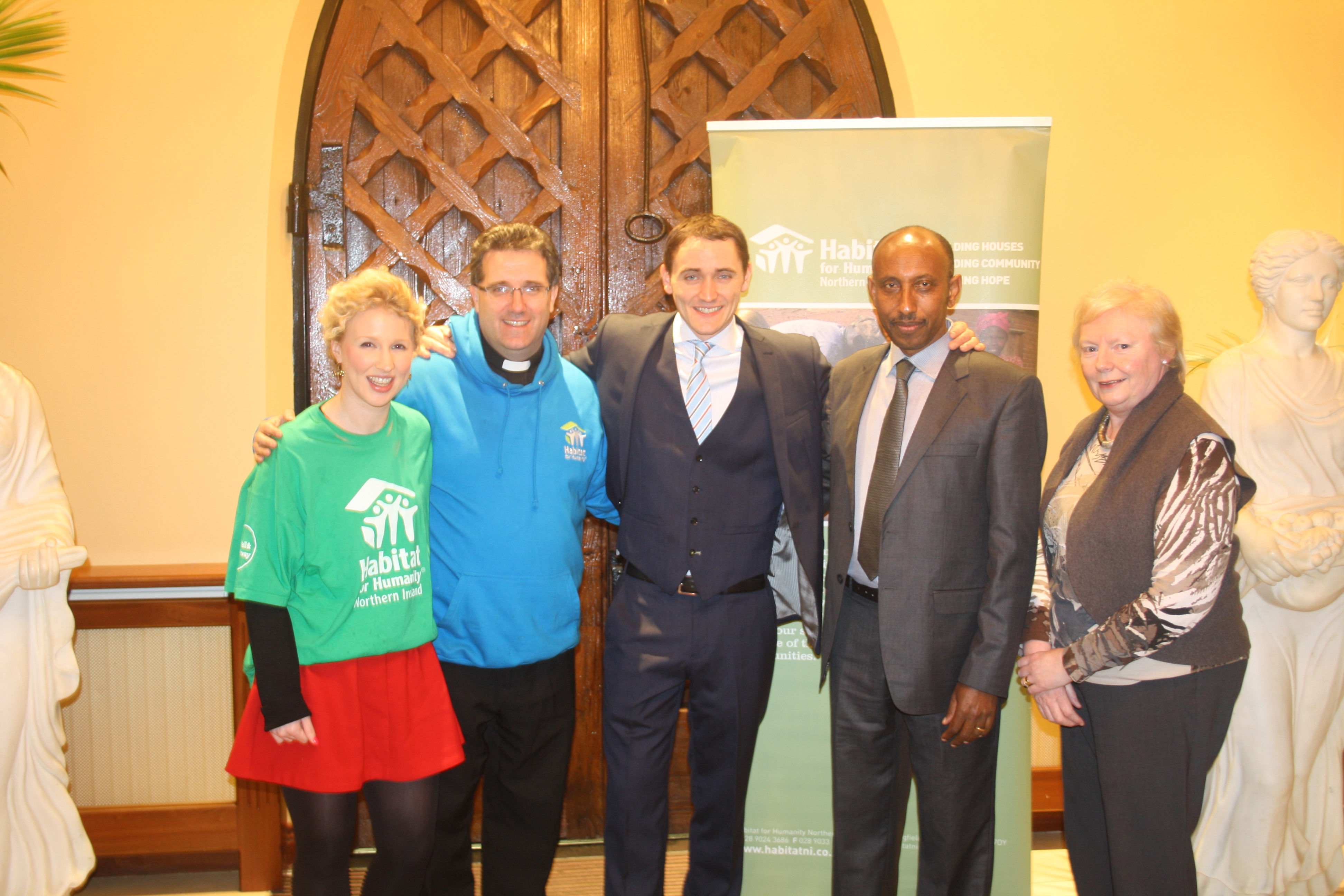 Habitat NI was joined by Kebede Abebe, National Director of Habitat for Humanity Ethiopia at the Tullyglass House Hotel, Ballymena to launch this year's Habitat Gala Ball.
The Habitat Gala Ball is organised by volunteers who will be travelling to Ethiopia this summer to build hope and homes as part of Habitat NI's Global Village programme. Since 2007, the Gala Ball has raised an estimated £60,000 to support the work of Habitat for Humanity Northern Ireland. 
Fr. Raymond McCullagh, Chaplain at the University of Ulster, is a long-time supporter of the work of Habitat NI and has seen firsthand the impact Habitat for Humanity has in Ethiopia. "The support from the Tullyglass House Hotel over the past seven years has been brilliant. This year's Habitat Gala Ball promises to be a great occasion, helping to raise vital funds to support the work of Habitat for Humanity in Ethiopia. I have had the opportunity to travel to Ethiopia with Habitat NI many times and see how they are putting God's love into action and changing lives every day." 
Habitat NI and Habitat Ethiopia share a strong partnership with over 330 volunteers travelling to Ethiopia to in recent years. Volunteers from across Northern Ireland have come together to build hope and homes and give families trapped in poverty housing the hand up they need to build their own way out of poverty. 
Wendy Morton is part of the Ballymena Churches Forum which is sending a cross-community team of volunteers to Ethiopia this summer with Habitat NI. "The team from the Ballymena Churches Forum are really looking forward to their Global Village trip to Ethiopia this summer. It was great to meet Kebede Abebe and hear about the brilliant work Habitat for Humanity is doing in Ethiopia, helping to build a better future for families in need."
 This year's Habitat Gala Ball will take place at the Tullyglass House Hotel, Ballymena on Friday 16th May 2014. Tickets are £40 each and available from:  
 Claire Smylie, Living Youth Office Manager, 16 Chapel Lane, Belfast, BT1 1HH       
Tel: 028 90232432  
email: clairesmylie@livingyouthni.org                                                                           
Alternatively log on to www.livingyouthni.org or contact
Fr Raymond McCullagh 
email r.mccullagh@ulster.ac.uk 
Tel: 07739223293
You can also contact
Wendy Morton
email: wmorton@utvinternet.com 
Tel: 07790 059481