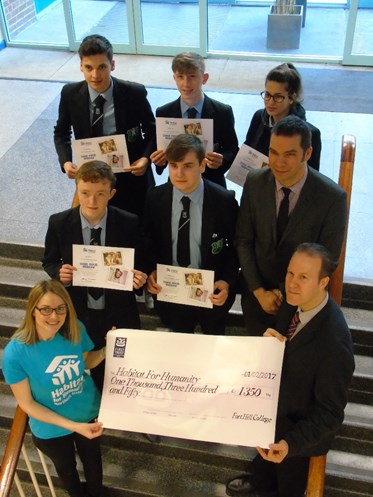 A group of Year 13 students partnered with students from Friends' School Lisburn to explore key local and global social justice issues and consider how they can be Change Makers in their school, community and world.
Before Christmas, the students volunteered together on a local Habitat site. They rolled up their sleeves to help refurbish St Michael's Church of Ireland parish hall, off the Shankill Road, to create a welcoming, inclusive space to serve the local community.
Since then the students have participated in a fundraising challenge and have raised £1,350 to support Habitat's work. The total raised by the two schools will contribute towards a Habitat home in Malawi, which costs £2,500.
Mr Allison of Fort Hill Integrated College, said: "We know safe homes are vital for children to thrive and were delighted to support Habitat in this way. The students learned a lot from the Change Makers programme and enjoyed working beside their peers from Friends' School. It was great to see friendships develop as they learned about key issues and helped make a difference."
Jenny Williams, Chief Executive of Habitat for Humanity Northern Ireland said, "We so much appreciate the hard work, passion and generosity of the students from Fort Hill Integrated College and Friends' School Lisburn.
At Habitat, we passionately believe in the power of young people to shape our future. Change Makers engages young people in our mission; providing an opportunity to serve and grow into active citizens who can make a real difference in our own community and around the world.
It is our hope that the young people will be inspired and equipped to continue to speak out for safe shelter no matter what future path they take."
To learn more about Habitat's work visit habitatni.co.uk.