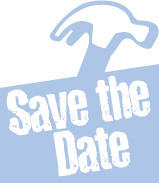 Over the last 4 years hundreds of Big Builders have travelled from Northern Ireland to be part of a very special partnership with families across Romania.
You are invited to join us on 25th January 2013 at 7.30pm (venue TBC) to share in the memories of the last four years and unite with all those who have built big and built hope.
RSVP Jan Lindsay JanL@habitatni.co.uk or tel. 028 92 635-635 by January 18th 2013.