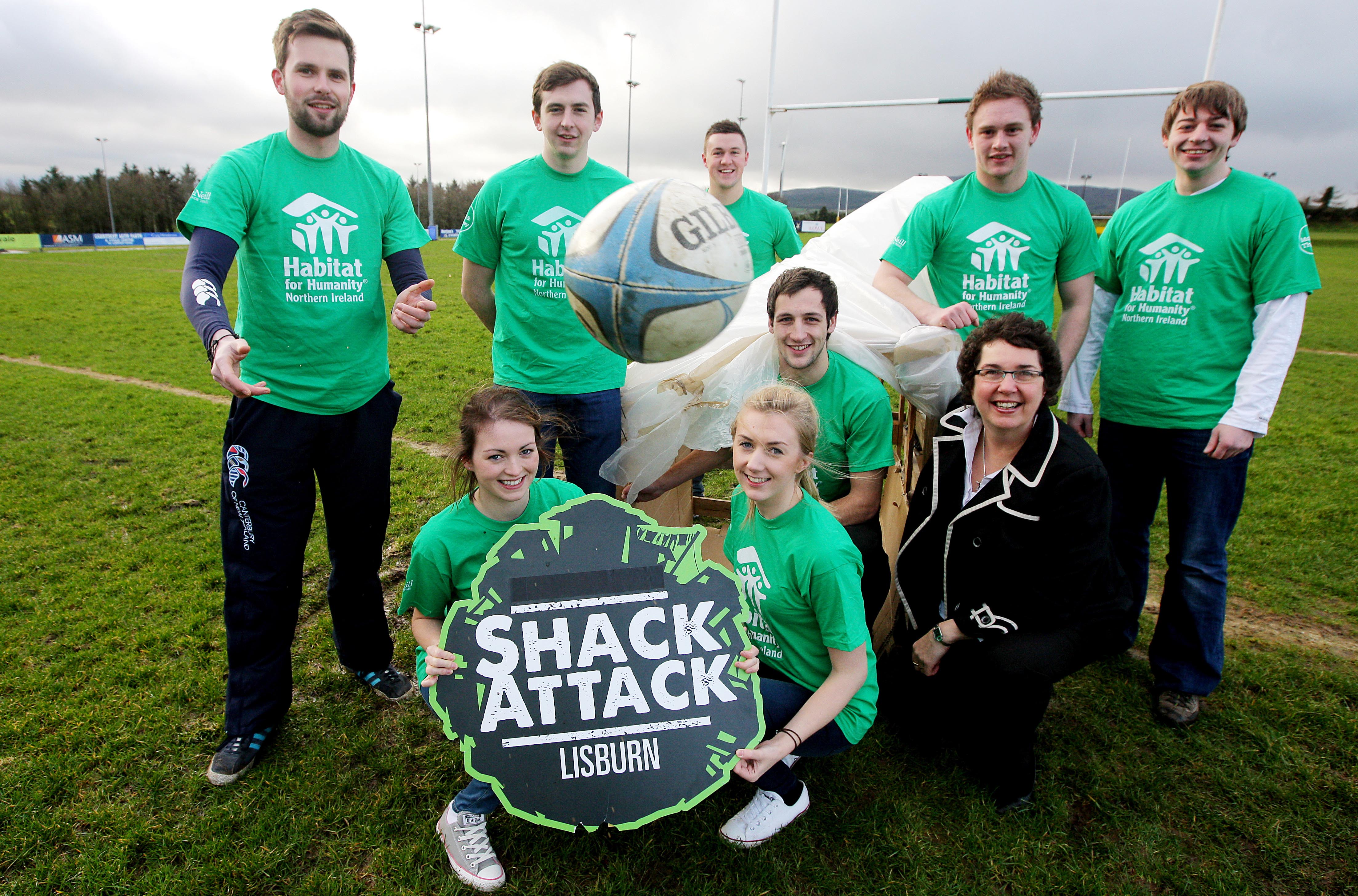 Ballynahinch Rugby Club is getting ready to line-out with Habitat NI to end poverty housing. The team are throwing their weight behind Habitat's latest fundraising challenge 'Shack Attack'.
Shack Attack is a unique, fun outdoor event which challenges teams of 4 people to design and build their own make-shift shelter using only whatever scrap or donated materials they can find. The teams are then challenged to camp out overnight in their shelters, experiencing the hardship faced by millions of people around the world every day.
Members of the Ballynahinch Rugby Club will see firsthand the impact of Habitat's work when they travel to Cambodia with Habitat NI in 2014 to build hope and homes.
James Greg, member of Ballynahinch Rugby Club said: "We're very excited about our trip to Cambodia with Habitat NI this summer, but you don't have to travel overseas to help change the lives of families trapped in poverty housing. We encourage everyone, whether you are a rugby enthusiast or not, to take up the challenge of Shack Attack and raise vital funds to help Habitat nail poverty housing."
The event is open to everyone and is a great opportunity to get a group of friends together from work, sports clubs, church or the community and have a bit of fun while raising vital funds to support the work of Habitat NI.
Jenny Williams, Chief Executive of Habitat NI said: "Everyday in over 70 countries around the world Habitat for Humanity is changing lives by helping families build their own way out of poverty. Habitat for Humanity has helped more than 4 million people have a safe, decent place to live but with 1.6 billion people around the world living in inadequate housing there is so much more to be done."  
"Shack Attack is a brilliant way of helping us to raise awareness of the global need for decent housing as well as raising vital funds for our work. With lots of prizes to be won as well as the crowning of the Shack Attack Champions, it's sure to be a fun weekend," said Mrs Williams.
Shack Attack will take place Saturday 17th- Sunday 18th May 2014 in Wallace Park, Lisburn. The event is open to anyone and it's free to take part. Each team is challenged to raise £1235 in sponsorship which is the average cost of a Habitat home in the developing world.  For more information or to sign up please call 028 92 635 635 or email fundraising@habitatni.co.uk.