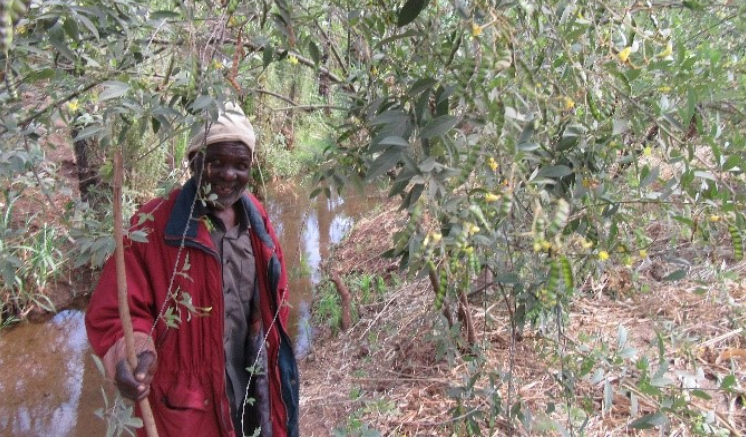 I am lost for words, the house is a source of pride and integrity for my family. Incidences of coughs among household members have drastically reduced due to the cement flooring in the new house. In addition, our new house has lockable doors and windows ensuring our safety unlike the old house.
Pokalasiyo (aged 82) is a beneficiary of a three-roomed house and ventilated improved pit latrine/wash area under the Orphaned and Vulnerable Group Housing project. Since the new house was built for his family in 2016, Pokalasiyo has taken the initiative of owning a garden. He grows maize, cowpeas, rape, bananas and sugarcane to earn a living.
However, Linda Township is on Mount Makulu. This has proved to be a challenge for Pokalisiyo who uses a rod to aid his walking, as the area is hilly. "I have a passion for gardening to fend for my family. If I was younger, walking through the hilly areas to my garden would not have been a challenge. Nevertheless, I am glad that my family is able to have a meal," Pokalasiyo narrated. Besides owning a garden, Pokalasiyo rears ducks.
Pokalasiyo lives with his wife, Anna born in 1942 and a grandchild (orphaned) namely Nora Soko aged six years old. "My sister-in-law, Eliza Soko with her daughter Eliza Njovu are visiting. Eliza Njovu came with her two children namely Hellen and Florence aged 10 years and 8 months old respectively," he said.
The family fetches water from a communal tap nearby at a fee of K1 (less than $1) for four 20litres containers. The water is safe for drinking. Their meals are cooked on charcoal and firewood.
"My family is really grateful for the new house. I have since enrolled Nora into nursery school and I am hopeful that she will have an education. I am comforted that she will have a roof over her head after my passing"- Pokalasiyo