Change Makers is our shared education and citizenship programme which brings together Year 13 and 14 students from two partnering schools to explore social justice and active citizenship, and work together on a local Habitat site.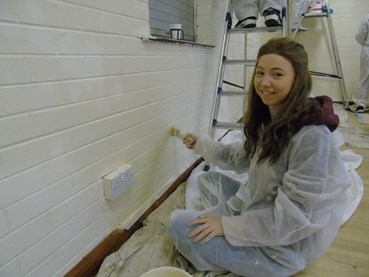 As the young people learn together, stereotypes are challenged and they are encouraged to make small changes in their lives which can have a positive impact on our community and around the world.
It is our hope that participants will be inspired and equipped to continue to speak out for safe shelter no matter what future path they take.
Ryan Clarke, a student at Carrickfergus Grammar School, took part in the programme this year. Here he reflects on working beside students from St. Dominic's Grammar School for Girls, during out project with St. Michael's Church of Ireland parish, off the Shankill Road. We refurbished the church hall to become an inclusive, welcoming space to serve the local community. 
"Together we had a superb day, forging friendships whilst giving back to the community. It was a brilliant experience; we learnt new skills, were able to take part in cross-community teamwork, and feel just how rewarding it was to help those at St. Michael's as well as the local Shankill community."
Learn more about our Schools Programme here, or to read more stories from our Spring 2017 newsletter click here.