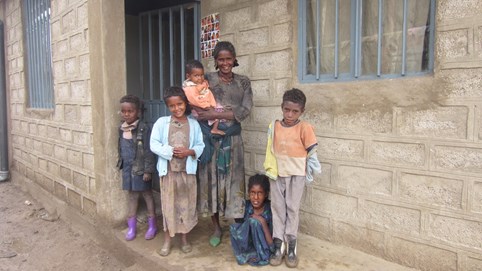 Life is tough for Ewaway (50) who lives in Fitche with her husband Kiros (60) and five children. Kiros has a physical disability and three of the children also have disabilities.
Home for the family used to be a deteriorated old house with a broken wall and unsanitary floor. The children were often sick due to their living conditions. The family's only income was the small amount Kiros earned from begging. It was a constant struggle to pay the rent of $3 per month to avoid eviction. 
Recently, the family moved into their new home in a Habitat development in Fitche for vulnerable families. The family are now planning a better tomorrow thanks to the strength, stability and independece a decent and affordable home  provides.
Ewaway says, "The new house is comfortable for my children. Now we have clean rooms, free space, a toilet, kitchen and water point. It is suitable to live and there is enough space to play, study and grow. We have freedom and do not worry about paying rent and being evicted."
"I wantto tank you in all the words I can for creating a better future for my children."
You can help us reach more families like Ewaway's by donating here.
Read more from our Winter 2017 newsletter here.