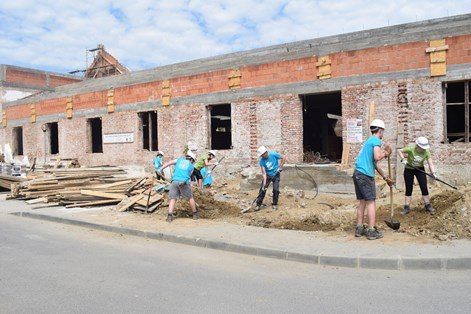 Our work improves homes and community buildings with low-income families and the most vulnerable, in a country where more than 5 million people live in poor conditions.
Beyond the constructions site, a significant impact of fthe partnership has been encouraging Romanians to get involved in projects, in communities where a volunteer culture is still developing.
"We deeply appreciate the partnership with Habitat NI. Together we are making a positive, lasting difference," said Roberto Patrascoiu, National Director of Habitat Romania.
The partnership includes support for a project with Phoenix Speranta Association, an organisation which provides training and support for young people at risk.
We are renovating an abandoned building to create a social enterprise, a community space for training and a block with 15 flats for vulnerable people to live independently.
Iliuta is on of the young people who are benefiting from the initiative. His parents left him when he was very young due to his severe learning disabilities. He is unable to live by himself and he attends therapy classes at Phoenix Speranta. The centre will provide vital care and support to help Iliuta develop.
Read more from our Winter 2017 newsletter here or support our work by making a donation here.