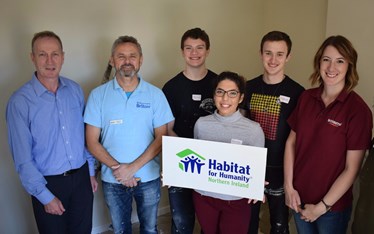 During the summer we launched the 'House to Home' initiative. Welcome already provide long-term support for vulnerable people as they seek to sustain tenancies. We add extra construction support, and work alongside volunteers, make a house a place for a fresh start.
Our volunteers are from all backgrounds. As they work together onsite, barriers are broken down between different communities and they gain a better understanding of some of the challenges the most vulnerable face. Volunteers do not need special skills to take part as our construction supervisors, Danny and Rab, are onsite to keep everyone right.
"Habitat's work everywhere is an opportunity to put faith into action. Sometimes we don't know how best to help but this very special project is supporting some of the most vulnerable people in our community. There is work for everybody and plenty of laughs onsite too, so get involved," said Rab.
Learn more about our local work here, and read more of our Winter 2017 newsletter here.
Donate to support our work here.