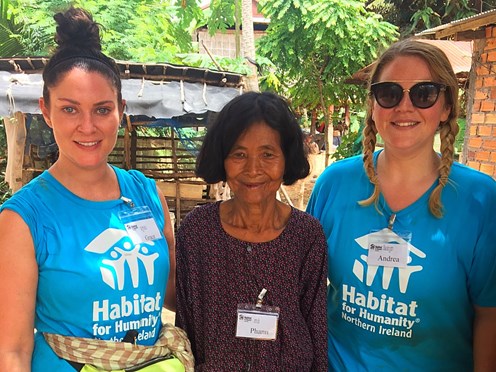 Grace Girvan from Donaghmore, Co. Tyrone, was in Cambodia this simmer to support our home-building work in a rural area of Siem Reap.
"The moment I met the two lovely ladies we were building for, my apprehensions disappeared. Hearing their story, seeing their emotion at us being there and being greeted every morning with such gentleness and the biggest smile, I felt driven and ready for any job to be thrown my way.
Building a home for someone was the aim; giving someone shelter, security and peace of mind was the motivation.
Since returning home I have said to numerous people how shocked I was at how much I laughed on the trip. I found it very emotional and challenging but you could see the happiness, closeness and community spirit of everyone in the village."
Learn more about our international volunteering opportunities for 2018 here.
Read more from our Winter 2017 newsletter here or support our work by donating now.