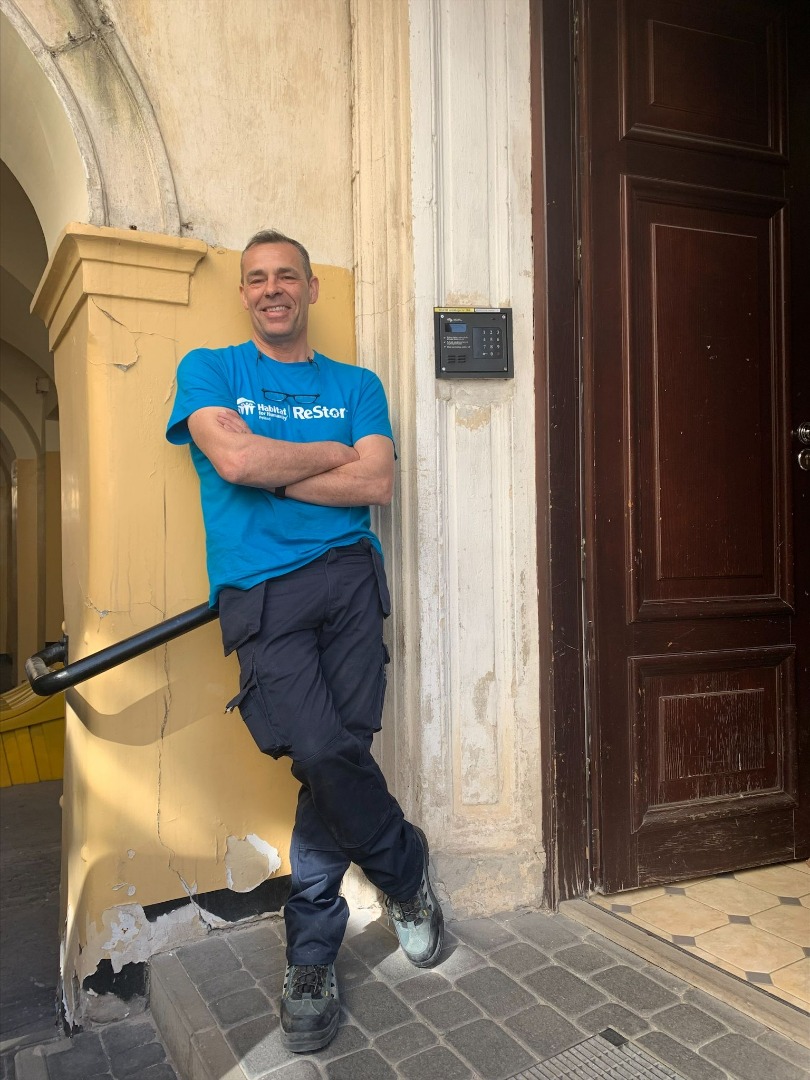 "I have been volunteering with Habitat for Humanity for many years. I am a builder with 35 years of experience in house construction, which makes Habitat a good fit for me," recounts Warren. When Russia attacked Ukraine in February last year, it wasn't long before Warren contacted Habitat Ireland to see how he could help. It was clear that there was an immediate need for extra hands in Poland where more than 1.5 million refugees fled from Ukraine.
Warren is independent, an experienced builder and very hardworking which made him a wonderful support as Habitat Poland worked to meet the urgent needs of refugees from Ukraine. Warren has worked with ReStore Poland since March 2022, providing logistical support and in extraordinary ways has been co-ordinating other aid from Ireland for Ukraine. Warren has continued to travel to Poland over the last year and, when he is home, supports the work here in Ireland. Warren helped us building walls and provided technical support as we launched ReStore Drogheda and then helped us assess ReStore locations in Belfast and Derry. 
Warren told us about his experience in Poland and the new project which is providing stoves for those affected by the violence inside Ukraine.
"We received updates about the needs of the people directly from contacts in Ukraine, when they visited villages and towns, and the message came back loud and clear. Simple wood burning stoves. People need to heat their homes and provide warm meals."
At first, Warren investigated buying these stoves in Ireland or Poland, but the cost to buy and transport was too expensive. Soon after, he found an alternative, in Ukraine itself. "We have them made in Kyiv by a company that normally works on lorries. We quickly made and approved a prototype at a price of €100 per stove, half the cost of a comparable stove in Poland. The price includes a small amount to cover distribution costs, and we even managed to add a bag of food with the first deliveries," recalls Warren.
These stoves have turned out to be life savers. At 30kg each they are easy to transport, they can effectively heat an area of 30 square metres and provide a life sustaining and comforting warm bowl of Borscht – a Ukrainian traditional soup – at any time. "They help not just physically but mentally. A warm glow in a cold dark place, something life-sustaining to tend to and have some control over in these uncertain and difficult times."
Some of the most vulnerable members of the community are already benefiting from the project. The stoves are distributed to the elderly, disabled people, single and widowed mothers, those with small children, families without access to adequate heating facilities because of attacks on infrastructure, families without income to buy alternative means to heat their homes and those living in damaged homes in need of support for heating, as well as invincibility centres to provide respite from the cold and something warm to drink.
As part of Habitat's Ukraine response funding was provided for 250 stoves. More than 60 have already been delivered and the remainder will reach families over the next weeks.
As the war in Ukraine enters its second year, Habitat for Humanity remains committed to helping affected families secure durable solutions to their housing needs, whether in neighbouring countries or inside Ukraine itself.
Right now, with your support, we can help more families in Ukraine have warmth and hope by providing stoves, generators and the building materials needed for immediate repairs.