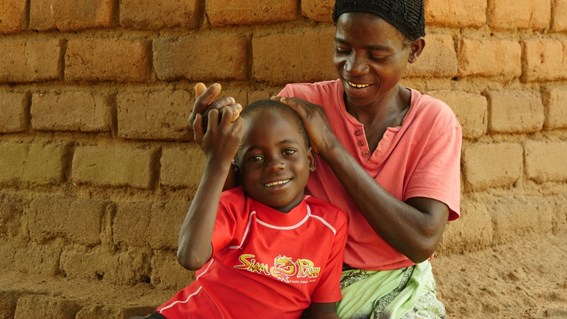 Bertha was forced from her home and her only option was to take her children and live in a one-room shack. They had to sleep and cook in the same room. Their goats slept with them and the mud-floor house was impossible to keep clean. Illness was a fact of life. The thatch roof leaked when it rained.
"When it rained, we used to pack up all our things as ifw e were going away... to protect our belongings. We would panic."
Kelvin Kalonga, National Director of Habitat Malawi, recently visited NI, to share the impact our support is having in Malawi.
"Lives are being changed. Lives are being transformed every day because of support from Northern Ireland."
Habitat for Humanity works in Malawi to help families like Bertha's who need it most. When Bertha received the keys to her four-bedroom home, with a door that locked, a roof that didn't leak an a floor which could be cleaned, she couldn't believe it.
"Our hearts were full of joy, it made me feel secure."
A secure home has enabled the Likeke family to rebuild their lives. they are healthier, safer and her children are able to attend school.
You can be a part of this live changing work. Join us this autumn at our first EVER Big Build Malawi!
Donate to support our work here.