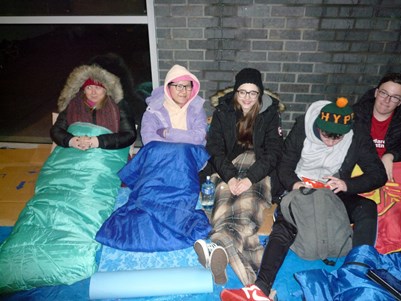 Every year, more than 200 young people participate in the Change Makers programme. It provides a unique opportunity for pupils from diverse backgrounds to learn together, and inspires young people to use their voices as advocates for safe shelter.
Change Maker participants at Fort Hill Integrated College organised a sleep-out in December to raise funds for Habitat's work.
A number of year 13 pupils faced the elements when they took to their sleeping bags and stayed outside for the night in the schools grounds.
The sleep-out raised over £700 for Habitat's work, and Headmaster Colin Millar, who joined students for the sleep-out said,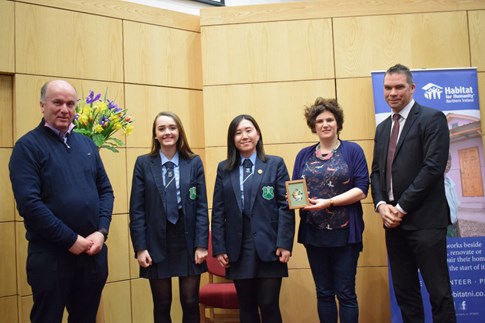 "The night spent sleeping out made the students appreciate the difficulties faced by those in such circumstances and how vital the work of Habitat NI is, both locally and globally."
Thanks to their hard work, the school raised £2,000 this year to support Habitat's work. In recognition of their fundraiser and the way they spoke out, they were awarded the 'Voice for Shelter' award at Habitat's annual Celebration & Commissioning event (pictured right).
Learn more about our Schools Programme here, or to read more stories from our Spring 2017 newsletter click here. Donate to support our work here.