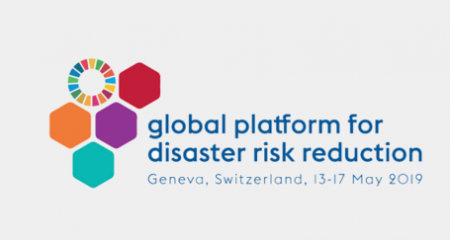 The conference is a forum for information and knowledge exchange, with the mission of improving communication and coordination for all stakeholders involved in disaster risk reduction. Several members of Habitat for Humanity will be attending the forum, and have submitted the below statement. In it, Habitat for Humanity specifically calls governments to enact adequate and effective laws and regulations that apply to disaster risk reduction increase national government funding for disaster risk reduction; recognize and support security of tenure along the continuum of land rights; and ensure communities are engaged in disaster readiness and response.
Habitat for Humanity Statement to the Global Platform for Disaster Risk Reduction 2019
Habitat for Humanity is pleased to submit a statement reiterating its commitment to ensure that all members of the global Habitat for Humanity network work together to achieve the goals of the Sendai Framework for Disaster Risk Reduction 2015-2030 and other critical global goals, including the 2030 Agenda for Sustainable Development and the New Urban Agenda, among others.
Habitat for Humanity International is a global non-governmental organization, whose vision is a world where everyone has a safe and decent place to live. Habitat for Humanity was established in 1976, as a grassroots effort and has grown as a leading global non-governmental housing organization working in nearly 70 countries. For more than 40 years, Habitat for Humanity has partnered with low-income households around the world, improving the housing conditions of more than 13.2 million low-income people. In addition to our direct housing interventions, Habitat for Humanity works closely with partners advocating for decent, safe and affordable housing for all.
The themes of sustainability, resilience and inclusion to be addressed at the Global Platform are more important now than ever in helping frame a discussion to define outcomes and to reach these goals. Habitat for Humanity affirms its commitment to contribute and engage with partners to continue our efforts in influencing these global agendas, as well as continuing our risk reduction work in local communities.
Habitat for Humanity's Global Commitments to Action
At the World Humanitarian Summit held in Istanbul, Turkey in May 2016, Habitat for Humanity made several pledges reaffirming our commitment to improve our work towards the alleviation of human suffering and the reduction of risk and vulnerability. Habitat for Humanity International and its local, affiliated partners around the world place peoples' humanity at the center of our decision-making.
At Habitat III, celebrated in Quito, Ecuador in October 2016, Habitat for Humanity contributed the following commitments to support the New Urban Agenda:
Introduced a new urban approach to promote inclusive and sustainable cities in a highly urbanizing world.
Launched an advocacy campaign to raise awareness and improve policies and systems to help 10 million people secure access to land for shelter, focusing on four key areas: secure tenure, slum upgrading, disaster resilience and gender equality.
Launched the Terwilliger Center for Innovation in Shelter to accelerate and facilitate better-functioning, inclusive housing markets to enable access to improved shelter solutions for over 8 million people by 2020.
Implement an array of community development strategies, advocacy initiatives and market approaches to increase access to affordable housing for nearly 40 million people by 2020.
Habitat for Humanity recognizes the success of implementation of the global agendas depends on meaningful participation of all involved stakeholders, especially at the local level. Involvement of local communities, government and civil society in the conceptualization, design, implementation and monitoring of policies, standards and plans is key to achieve sustainable disaster resilience.
Habitat for Humanity's commitments to the Sendai Framework for Disaster Risk Reduction
Habitat for Humanity commits to the following actions in support of the implementation of the Sendai Framework for Disaster Risk Reduction:
Address disaster risk reduction in all shelter, housing and settlements programming with an emphasis on the causal and underlying factors of disasters by promoting interventions that address the exposure to hazards, reduce vulnerability of people and property, facilitate the wise management of land and the environment, improve preparedness for adverse events and promote adaptations to climate change.
Work together with civil society organizations and local governments to build safer and more resilient communities, promoting a culture of preparedness and understanding that secure land tenure, affordable housing, safe water and sanitation are critical components to foster disaster risk reduction.
Improve the internal capacity of local Habitat for Humanity affiliated entities and partners in order to promote inclusion and serve the most vulnerable populations, with a strong emphasis on urban areas given their exponential growth and high exposure to risk.
Support disaster risk reduction and the building of resilience as a national and local priority, contributing to strong governance and participation of vulnerable populations in the decision-making process by fostering safe shelter and settlements awareness, strengthening local leadership and promoting gender balance.
Our Call to Governments and Guiding Policy Principles
To support delivery of these commitments, Habitat for Humanity calls on all governments to:
Enact adequate and effective laws and regulations that apply to disaster risk reduction that facilitate sound planning, land use, finance, access to services, design and construction of safe shelter and settlements, environmental management and climate change adaptations.
Increase national government funding for disaster risk reduction to mitigate the rising cost of humanitarian assistance and economic losses by the impacts of disasters, recognizing that investments in prevention far offset the costs of disaster response.
Implement regulations that ensure security of tenure, particularly for affected populations, to safeguard continued access to safe land and rebuilding without fear of eviction before or after a disaster, within a framework for sustainable development.
Engage local government officials with vulnerable communities, making them active participants as decision-makers and first responders when addressing local needs, applying community-based disaster risk reduction mechanisms and integrated approaches to improve the lives of vulnerable populations, develop capacity and raise awareness on shelter and settlements related risks.
In our collective effort to achieve the Sendai Framework for Disaster Risk Reduction 2015-2030, Habitat for Humanity promotes that governments consider the below principles in guiding the development of policies that will drive their disaster preparedness and responses:
Building back better after disasters and mitigate disaster risk should be intentional and by design.
Policies for disaster resilience and response should prioritize onsite reconstruction over relocation as feasible.
Secured land tenure should be reinforced. Short of a viable government plan for quickly resolving land tenure issues, people-centered mapping should be used to identify land ownership, resolve land disputes and provide a more secure form of ownership to protect residents from eviction and allow them to receive assistance.
Community input should always be incorporated into the design of disaster risk reduction and response programs.
The needs of renters must not be overlooked.
The rights of vulnerable populations and women should be given special consideration in the design of safe and affordable housing assistance programs.