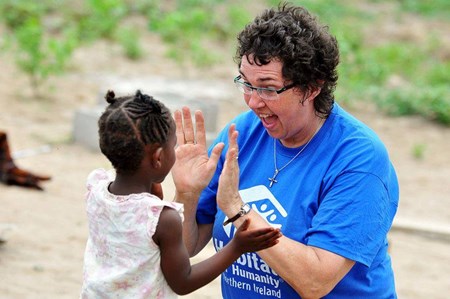 At a time of huge uncertainty in our world, working together is more important than ever.
At Habitat, we have a particular heart for the marginalised. As a means of sharing God's love, we create opportunities for all people to have decent places to call home.
We approach our work as a vehicle for reconciliation that breaks down barriers between people. 
We believe that no matter who we are or where we come from, we all deserve to have a decent life. Safe homes provide the strength and stability to build our own futures.
Read on to find out how your support transforms lives, locally and globally.
You help serve local communities through Habitat ReStores and support long-term development programmes in Ethiopia, Malawi, India, Cambodia, Romania and Haiti.
Thank you for your faithful generosity; through prayer, fundraising and volunteering.
Together, we are making a lasting, positive difference. With your continued support, we can reach many more people in need of a safe and affordable place to live.
Best wishes,
 
Jenny Williams, Chief Executive