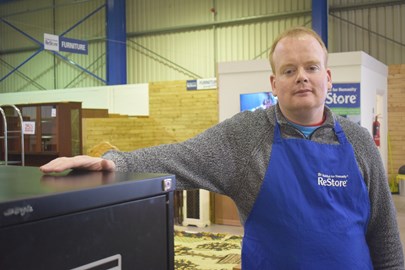 Why did you sign up to volunteer in ReStore?
I wanted to get some retail experience, it wasn't something I'd ever done before.
How long have you been a volunteer?
Around 6 months.
What motivates you to keep coming back?
It's great to get out and about and meet new people every week.
What skills, qualities or experience do you bring to ReStore?
I've always been good with my hands, and I love to build things. I'm also quite a good salesman I think!
What's your favourite task?
It has to be talking to customers and finding out more about them, and helping them to find what they're looking for.
What's been your highlight so far?
Just getting back into some sort of work and meeting new people has been amazing.
Who's the most interesting person you've met in ReStore and why? (This can be a donor, customer, fellow volunteer or staff member.)
The general public, everyone has a different story to tell and it's great to be involved.
What's the thing that inspires you most about Habitat's work?
They help those who don't have much of their own, and that's the most amazing thing they can do.
To learn more about the volunteering opportunities available in ReStore click here, or you can read more volunteer stories here.