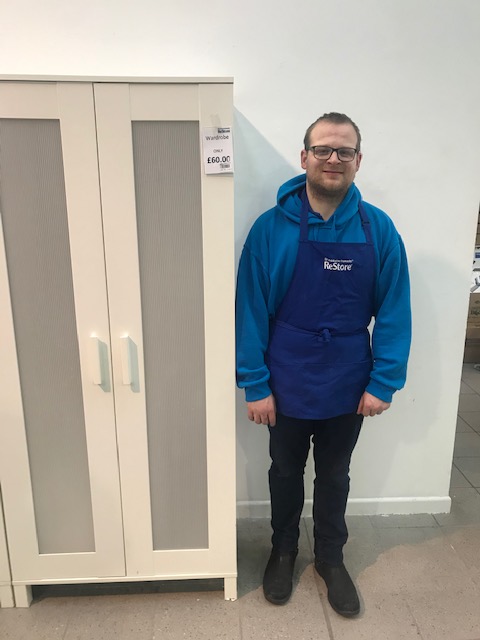 Why did you sign up to volunteer in ReStore and how long have you been a volunteer?
I wanted something to do during the work day. Sonia from the Day Opportunities Co-ordinator in NHSCT recommended I try ReStore, so I have been coming since August 2019.
What motivates you to keep coming back?
I like meeting new people, so talking to all the staff, customers and volunteers has been great.
What skills, qualities or experience do you bring to ReStore?
I am strong and work hard. I enjoy lifting furniture and placing it in the shop. I also like to get out in the lorry and visit donor's houses to collect items. 
What have you learned during your time in ReStore?
I have learned how to build beds and wardrobes and I can now build a kitchen up too!
What's been your highlight so far?
There have been too many to pick one – I love it in ReStore.
What has challenged you at ReStore?
Talking to people I don't know. However my confidence has grown and it is one of my favourite things to do. I like being around new people.
What's the thing that inspires you most about Habitat's work?
The furniture I lift and carry is sold and the money is used to help people locally and internationally to have a decent home. I feel like I'm a part of Habitats work.
To learn more about the volunteering opportunities available in ReStore click here, or you can read more volunteer stories here.