People who struggle with long-term suffering report that a fatigue factor sets in. At first, no matter the issue, problem, housing situation or illness; they get a spurt of attention. Cards fill their mailboxes. Flowers fight for space on the countertops. The phone never stops ringing.
But over time, attention fades. The flurry of sympathetic responses decrease as the time passes.
Maybe you've visited the person. You've sent the money. You've said the prayer. You've ticked the box that makes your conscience feel better.
In the list of Biblical fruits of the spirit, Paul includes 'forbearance'. This can be translated as endurance. Patience. Perseverance. Long suffering. The idea that the words 'temporary sympathy' should be changed to 'long-term compassion'. The opposite of a one off, "tick box" experience.
Paul encourages us not to be like those who show support once, then slowly drift away.
When speaking about this idea of 'forbearance and on-going compassion' Philip Yancy says, "I believe we, in the body of Christ, are called to show on-going love even when God seems not to."
For many people throughout this world God can seem distant and absent. He has left them with no home. He has left them with no support. They have nowhere to turn. No one to turn to.
What kind of picture does that paint of a God who is about love, mercy and justice?
Yancy goes on to question; What if we, then, must be the presence of God in these peoples' lives? What if we must voice the prayers that these suffering people cannot voice? What if God's love is only perceived through the flesh of ordinary people like you and me?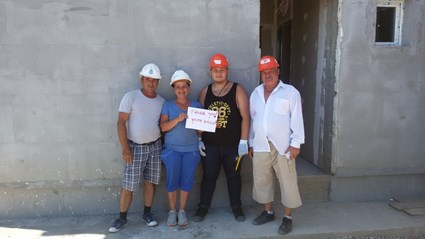 For many of Habitat's supporters, the work of Global Village is about a lifetime commitment. It's an everyday, every month, every year forbearance. It is not a one-off experience, and we need to see if we can transfer this passion onto others.
But how do we inspire other people? How do we inspire more long-term support for Habitat, rather than these 'one-off experiences' that so many people engage in? What about the people we meet this year on our new teams? How do we motivate them?
We are often told that there is nothing we can do to motivate someone else; because motivation is an inside job. This may be very true, however there is still a lot we can do to stimulate that inner motivation.
-   We can share personal stories, explaining what Habitat means to us.
-   We let them see first-hand that the giver will be far more blessed than the receiver.
-   We stay in touch, so they know they're always welcome as part of the wide Habitat family.
-   We give them positive feedback and regular recognition for their help.
Someone once said "I'd love to ask God face to face 'why?' Why God the injustice? Why God the unfairness, the inequality, the homelessness, the sickness, the sadness? Why? Why do You allow poverty and all this injustice when You could just do something about it? Why not just do something?!"
But then again, I'm afraid He'd ask me the same question.
Learn how you can get involved with Habitat NI here.