Why did you sign up to volunteer in ReStore and how long have you been a volunteer?
I decided to become a ReStore volunteer to put my Christian faith into action and to also assist Habitat in achieving its vision of, "a world where everyone has a decent place to live". I have been a ReStore volunteer for around 10 months now, since July 2016.
What skills, qualities or experience do you bring to ReStore?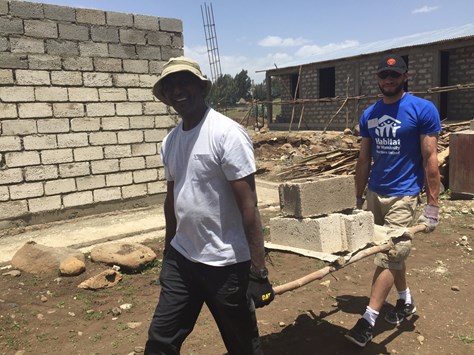 Thanks to my previous experience as a Co-Team Leader with Habitat's Global Village, I managed to learn many things as part of the process. Our Ulster University Team (2016) to Ethiopia was really successful and I returned home having made some lifelong friendships and memories. I learned how to work well onsite alongside fellow Habitat Volunteers, staff and locals to build decent housing as well as form relationships with members of the wider community which is a key feature of Habitat's grassroots approach. I was also fortunate to witness just how impactful Habitat's work is in transforming people and entire communities' lives by responding to place-specific needs whether they are housing, sanitation, public infrastructure or energy based e.g. the 'eco-stoves' initiative.
What's your favourite task?
Going out in the ReStore van or lorry to help out with household item donation collections.
What have you learned during your time in ReStore?
How wide Habitat's customer base is and how the ReStore is one of those rare places that can attract people from all walks of life and bring them together under one roof for a common cause.
What's been your highlight so far?
Seeing the new ReStore opening in Ballymena last year as it means that now even more local families can get access to low-cost home improvement materials, funds can be raised to sustain housing projects for the world's most disadvantaged and tonnes of reusable material can be diverted from landfill protecting the environment.
What has challenged you at ReStore?
Familiarising myself with the wide assortment of items we stock and organising them in the warehouse.
Who's the most interesting person you've met in ReStore and why? (This can be a donor, customer, fellow volunteer or staff member.)
I'd have to say Rab and Danny who are both ReStore supervisors. The energy, experience they bring to the role and their good sense of humour has made a big difference to customers, volunteers and colleagues alike.
What's the thing that inspires you most about Habitat's work?
The vision and conviction shown by the Fullers who founded Habitat for Humanity in 1976 as former philanthropists who gave up their wealth and lived in Africa for a time before returning to the United States to establish Habitat.
To learn more about the volunteering opportunities available in ReStore click here, or you can read more volunteer stories here.