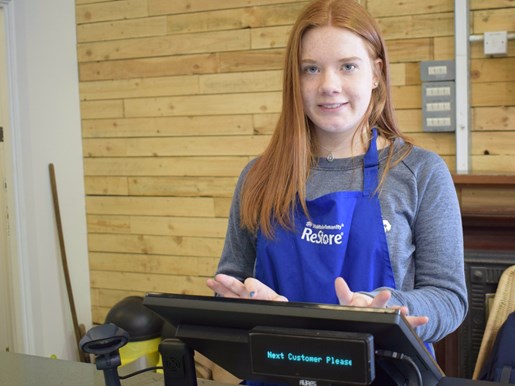 Why did you sign up to volunteer in ReStore?
To complete the volunteering aspect of my silver Duke of Edinburgh Award.
How long have you been a volunteer?
Just over 2 months.
What motivates you to keep coming back?
All the interesting and lovely people that I've met during my time here, customers, staff and my fellow volunteers.
What's your favourite task?
I really enjoy working the till and getting to interact with customers.
What have you learned during your time in ReStore?
How to build a bed! It's something so different and out of my comfort zone. I never thought it would be something I'd be able to do, but I'm very proud of myself!
What has surprised you about working in ReStore?
How busy the store is. Since it's quite a new store I was worried that it may have been quiet, but it hasn't been!
What has challenged you at ReStore?
Learning all about hardware and DIY materials has been a real learning curve for me. It's not one of my strengths, but everyone in store has been so nice and has really put me at ease.
Who's the most interesting person you've met in ReStore and why? (This can be a donor, customer, fellow volunteer or staff member.)
Everyone's so interesting and has something different to contribute but if I had to choose one, it would be the store manager, Isobel. She is so friendly to everyone who comes into the store and is so dedicated to all of us volunteers and ReStore.
What's the thing that inspires you most about Habitat's work?
The work they do for the people of Northern Ireland. It's amazing to see and hear about the effect that ReStore is having in Ballymena.
To learn more about the volunteering opportunities available in ReStore click here, or you can read more volunteer stories here.