We asked our volunteer David Gill some questions, to find out what he enjoys most about ReStore and why he still gives his time after over 3 years with Habitat.
Q: Why did you sign up to volunteer in ReStore?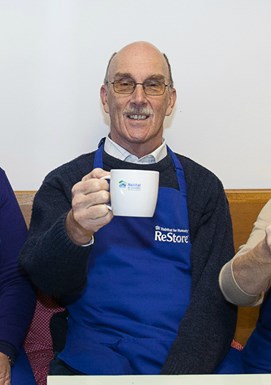 A: I wanted to do charity work, but I didn't want to be stuck behind the till in a clothes shop. I'm a practical, hands on personality and wanted to do something that appealed to me.
Q: How long have you volunteered in the Lisburn ReStore?
A: Around 3½ years.
Q: What motivates you to keep coming back?
A: I suppose because it's the most suitable place for me, but also because I enjoy it. I enjoy the fellowship with the rest of the volunteers and staff, and I enjoy being able to work with my hands. I also like knowing I'm doing something worthwhile in supporting Habitat, as I've seen first-hand how wasteful we can be as a community and I find it satisfying to know that I am helping to rectify that in ReStore.
Q: What skills, qualities or experience do you bring to ReStore?
A: Mostly practical and computer skills, however I have also recently completed a course in portable appliance testing meaning I will now be able to test the kitchen appliances which are donated to ReStore.
Q: What's your favourite task?
A: I like to repair furniture that's brought in, and I also find it fun to build flat-pack furniture without any instructions!
Q: What have you learned during your time at ReStore?
A: I have actually learned a great deal about autism and how best to communicate and work with people who have learning difficulties. It can be quite challenging sometimes, however seeing them progress is so rewarding.
Q: What has surprised you about working in ReStore?
A: The lack of mature volunteers. I think ReStore is such a great environment for anyone who is retired or wants to give some of their time to a worthwhile cause. It is a great opportunity and I hope more of the older community will get involved.
Q: What's been your highlight so far?
A: Reaching 500 hours of volunteering at Habitat and receiving a small token of appreciation from the store as a reward.
Q: What has challenged you at ReStore?
A: Learning to work with such a variety of people, all from different backgrounds, with different personalities. It has been challenging at times, but I've enjoyed being able to broaden my horizons.
Q: Who is the most interesting person you've met in ReStore and why? (This can be a donor, customer, fellow volunteer or staff member.)
A: Everyone who I've met during my time is unique and has a different story. However there was one young volunteer who I met in ReStore that really inspired me. He really struggled at the beginning, finding it difficult to adjust to his new surroundings and structure. However, by the time he left ReStore he had transformed and matured so much. He was able to work on the till and speak to customers without hesitation. He was always capable, but I feel that his progress was thanks to the Habitat staff, who spent so much time working alongside him.
Q: What is the thing that inspires you most about Habitat's work?
A: I think it has to be the ReStore. The store does so much good in so many ways helping the volunteers who work there, the local community, the environment and it has also helped me to develop myself.
To learn more about the volunteering opportunities available in ReStore click here, or you can read more volunteer stories here.