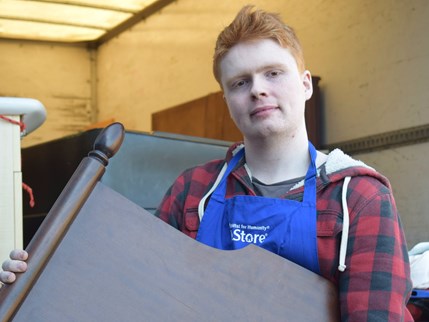 Why did you sign up to volunteer in ReStore?
To learn new skills and abilities and to become more sociable.
How long have you been a volunteer?
Around 5 months now.
What motivates you to keep coming back?
The volunteers- they're all so enjoyable and fun to be around. It's much better than spending my time at home.
What skills, qualities or experience do you bring to ReStore?
My I.T. skills have been really useful in ReStore, especially as we've been getting the new till system up and running, so I've been able to help with that.
What's your favourite task?
Getting to actually use my I.T. skills in ReStore, I didn't think there would be much opportunity for that, but Isobel has been great at letting me help her bar-code, price and teach other volunteers about the new system.
What have you learned during your time in ReStore?
I've gained lots of interpersonal skills- I'm a lot more sociable now and I'm so much more confident in speaking to customers than when I started.
What has surprised you about working in ReStore?
How busy it has been since I started! One Saturday we even had people queuing up outside, waiting to come in!
What's been your highlight so far?
My highlight is all of the people I've met from different walks of life, from volunteers to customers and even the staff!
What has challenged you at ReStore?
The manual labour- it's not something I've ever done before- but I was so glad to have the opportunity to try it. It's been a real learning curve.
Who's the most interesting person you've met in ReStore and why? (This can be a donor, customer, fellow volunteer or staff member.)
There's one of our regular customers who is involved in film and television here in N.I. He buys bits-and-bobs in ReStore to use in productions he's working on, filmed in Belfast. It's something I find so interesting, and it's great that he find pieces in ReStore.
What's the thing that inspires you most about Habitat's work?
It's amazing that 85% of funds raised go towards Habitat's programmes around the world and right here in Northern Ireland. It's something I'm proud to be a part of.
To learn more about the volunteering opportunities available in ReStore click here, or you can read more volunteer stories here.