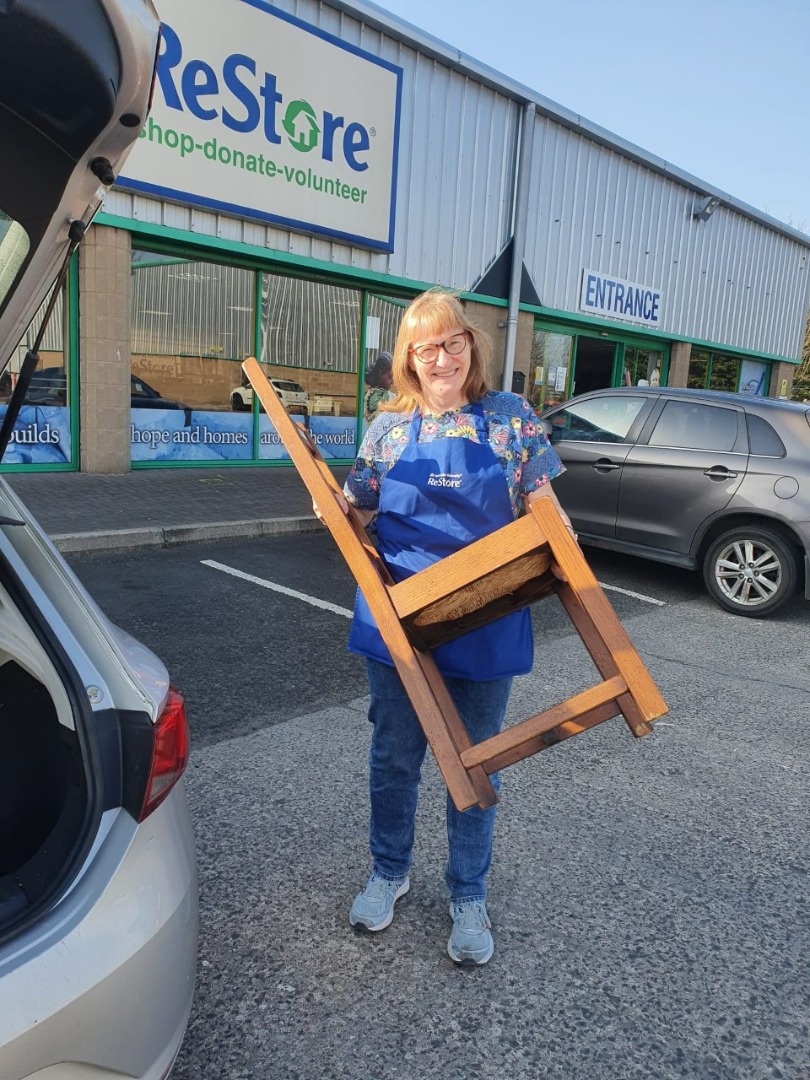 Why did you sign up to volunteer in ReStore and how long have you been a volunteer?
A few years ago, when I was working in the NI Civil Service, we did a one-day volunteering visit to ReStore, and I enjoyed it so much I decided I would sign up for regular volunteering if and when I ever had had more time to spare - so last year, when I left work, I contacted ReStore and the rest is history....  I have been volunteering on a weekly basis since July 2021.
What motivates you to keep coming back?
The company, the camaraderie and the craic!! And I am glad to be able to give my time to the great work that Habitat does for those in need.
What skills, qualities or experience do you bring to ReStore?
I worked full-time from 1975 to 2021, in a wide range of organisations, each of which taught me a huge amount - from very junior roles in advertising, marketing, graphic design and publishing companies in Dublin; over 20 years in the tourism promotion/hospitality industry; and almost 25 years as a Civil Servant at Stormont, where I spent time as a government Press Officer in a number of different departments before moving to the Office of the First Minister and deputy First Minister.
So - I have learned to be adaptable, flexible, willing to learn on a constant and ongoing basis, and positive in my outlook on life, the universe and everything - all of which come in handy for the many and varied experiences which materialise in ReStore.
What's your favourite task?
So far - stacking the shelves with Christmas merchandise. Also, I had the opportunity to help out with preparing a new ReStore for opening in the Spring of this year, which involved a range of DIY/building skills I never knew I had!!  Everyday's a learning day.
What have you learned during your time in ReStore?
How to use a pricing gun! Also, the names and uses of all sorts of plumbing devices. Also, how very diverse and interesting the customers, staff, volunteers, donors and supporters of ReStore can be - there is never a dull moment!  
What surprised you about working in ReStore?
The huge variety of plumbing devices that exist in the world! Also, the huge range of people drawn to the ReStore either as staff, volunteers, customers, or to make donations - from people newly arrived in Northern Ireland and looking to find a safe space here; local people in desperate need who can find support and hope at ReStore; bargain hunters who get such delight from finding a great deal instore; knowledgeable antique dealers on the lookout for hidden gems; people donating cherished family items after the death of a loved one knowing their belongings will find a happy new home;  and people with all sorts of life and work experiences who give their time to ReStore - you never know what stories you are going to hear or what insights you will get.
What's been your highlight so far?
Every week at ReStore brings its own highlights - it is always fun and very enjoyable!  
What has challenged you at ReStore?
ReStore is a very busy shop, and can sometimes be pressured - like most volunteers, I am only there once a week, so each week is a learning curve - you just never know what you're going to be asked! 
Who's the most interesting person you've met in ReStore and why?
So many people who come into ReStore have such interesting backgrounds and stories to tell - I have found a lot of people to be very inspiring, just for their attitudes and resilience, and determination to keep going in the face of adversity.  As an example, there was one lady whose husband had died after over 40 years of marriage - she had never driven anywhere as he did all the driving, but as she now lived alone in a very remote farmhouse, she had had to learn to drive, and for some reason, ReStore was her first destination! When she arrived, she was shaking like a leaf, and very emotional, but so proud of herself for her achievement - although she was already dreading the journey home!   
What's the thing that inspires you most about Habitat's work?
What I find most inspiring about Habitat is the positive, inclusive and sustainable approach it takes to every aspect of its work and role - providing for people in direct need; getting absolute value and use out of every possible resource, from donated items to volunteers to the goodwill of customers and associates; the recognition and respect shown to everyone no matter what level or type of involvement they have with Habitat; and the belief that every single person has a value and a potential.    That is a very worthy approach and I am glad to be a part of it.
To learn more about the volunteering opportunities available in ReStore click here, or you can read more volunteer stories here.