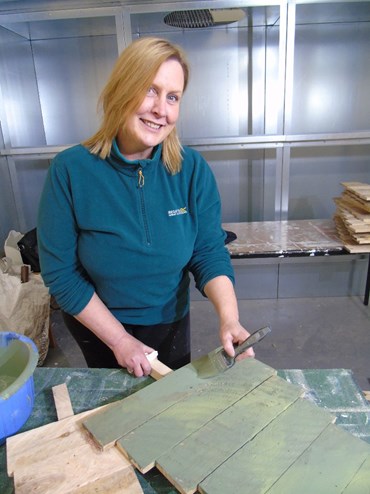 Ann McInally has been volunteering with Habitat ReStore for just over 1 year! Ann found out about the opportunities within ReStore through our partnership with the Cedar Foundation. Cedar is a charity which delivers a range of services that enable people with disabilities to get the most out of life and to be fully included in their communities.
Ann has worked within ReStore's up-cycling team, working on restoring old pieces of furniture to sell onto the public. She feels that this is a great opportunity to work on her social skills and help a great cause at the same time!
Below we asked Ann to share more about her experience:
What's your favourite task in ReStore?
Painting the pieces and getting to work our own projects. Especially since we get to see them through from start to finish.
What motivates you to keep coming back?
It's great to have a challenge, and being part of the ReStore team helps to build my confidence.
What has surprised you about working in ReStore?
There's just so much love here, a very real sense of belonging. Everyone has an important part to play.
What's been your highlight so far?
A customer bought one of my pieces, and seeing it on Facebook gave me a sense of pride. It felt great.
What has challenged you at ReStore?
Having to converse with others and communicate using my speech has been difficult for me, but I feel far more comfortable with it now.
What's the thing that inspires you most about Habitat's work?
The ReStore helps the communityand Habitat does such meaningful work in sustainable housing. It feels good to be even a small part of that.
Find out more about the volunteering opportunities available at ReStore here, or click here to read more volunteer testimonials.
Read more stories from our Spring 2017 newsletter here.