Adam (17) started volunteering with Habitat ReStore in Ballymena to improve his social skills and gain some work experience.
Adam has Aspergers Syndrome (a form of Autism) and so has difficulties socialising with others. His parents learned about the new ReStore opening and felt that volunteering for 4 hours on a Saturday would help Adam to step out of his comfort zone and learn new skills.
One month on, we asked Adam some questions about how he's finding the experience so far!
What's your favourite task in ReStore?
I like brushing the floor most because I can see the difference it makes in the store- it can get super dusty!
What have you learned during your time in ReStore?
I've learned a lot about the work Habitat does in Northern Ireland- I thought they just worked in Africa. I now also know more about how to lift things properly and I can clean furniture now too.
What motivates you to keep coming back?
There are lots of people in the world who need homes and Habitat for Humanity help them, so I like to know that I'm helping them too.
What has surprised you about working in ReStore?
I was surprised by all the stuff people throw away. It isn't broken but people just get rid of it anyway.
What has challenged you at ReStore?
I find it difficult to talk to customers. It isn't something I'm good at so I'm trying to work on that every week.
Who's the most interesting person you've met in ReStore and why? 
Joe (the donation collections driver) is so good at fixing stuff. I didn't even recognise my old desk after he'd finished with it.
What's the thing that inspires you most about Habitat's work?
Everything Habitat does with kids around the world. They don't have somewhere safe like we do, so it's important to try and help them.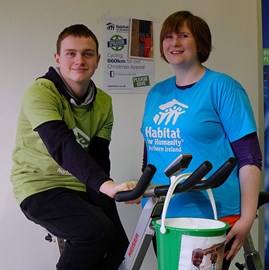 Adam took another step out of his comfort zone when he took on a sponsored challenge, to raise money for Habitat! He took part in a sponsored Spinathon at Habitat ReStore, Ballymena, in November 2016!
With the help of some friends and family, Adam aimed cycled 660km and raise £660 to support Habitat's life-changing work. In Ethiopia, just £66 could buy a solid iron door for a Habitat home, which is vital to keeping families safe and secure. Adam hoped raise enough money for solid iron doors for 10 homes. 
In the end Adam and team cycled over 800 km and raised £1354, which is enough to buy front doors for the homes of 20 families in Ethiopia!
To learn more about the volunteering opportunities available in ReStore click here, or you can read more volunteer stories here.