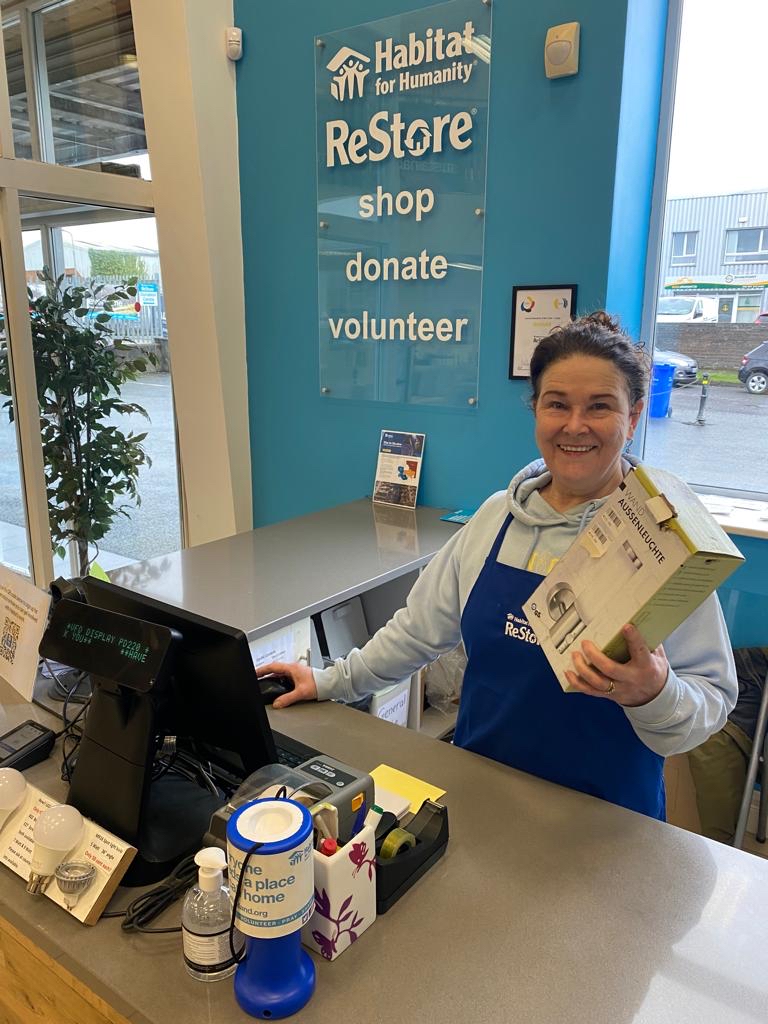 Why did you sign up to volunteer in ReStore and how long have you been a volunteer?
My daughter had connected with Habitat previously in her school and when I saw local publicity for the launch of ReStore, came to see what is all about and stayed! I love everything about repurposing and recycling and just thought ReStore was fantastic.
What motivates you to keep coming back?
I love the concept- that young couples and others setting up home can buy everything they need at affordable prices. There's a great camaraderie with the ReStore team; staff and other volunteers. I even got my daughter involved in helping out too when she was home for Christmas. It's fun!
What skills, qualities or experience do you bring to ReStore?
My career in nursing taught me many things; the importance of listening, of nurture and of empathy. Those are important skills as a ReStore volunteer; everybody who comes to shop, or donate, has a story and having time for people makes it so worthwhile. I love the chance to use creativity – helping customers choose what will work well together from the wonderful range in ReStore. And of course first aid experience has been useful a few times as well!
What's your favourite task?
Engaging with people and the diversity- every day is different. It's great being at the desk and having the chance to help.
What have you learned during your time in ReStore?
ReStore benefits the whole community; some people need a low-cost option, others need to learn skills through volunteering and others need somewhere to donate leftover or unwanted DIY and household stuff.
What has surprised you about working in ReStore?
The size and scale of the store, its bright and airy – it's a lovely place to work and to shop, as well as the range of products everything for home – tiles, baths, doors, sofas, pictures and bric-a-brac.
Who's the most interesting person you've met in ReStore and why? 
I'd say Andy the store manager. He's great to work with, hugely supportive of the whole team and especially volunteers who need extra support. He can do anything!
What's the thing that inspires you most about Habitat's work?
That Habitat's mission is local and global. Having a home, with access to clean water is so important. I love ReStore and interacting with my fellow volunteers.
To learn more about the volunteering opportunities available in ReStore click here, or you can read more volunteer stories here