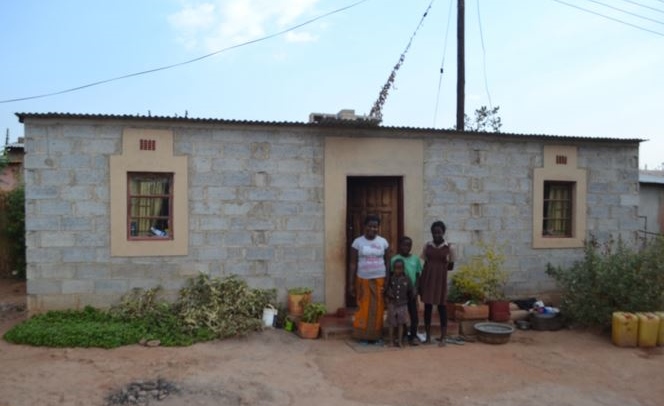 Helen lives in Linda community in Lusaka, Zambia. She is a widow and cares for her three children, as well as her late sister's children.
Before moving into her new Habitat home in October 2016, Helen and her family lived in a dark and unstable mud-brick home, with cracks in the walls and limited ventilation (as shown in photo 1, left). This home posed a threat to the safety of her family – especially during the rainy season. Helen and her children now live in a three-room house built with concrete blocks and cement mortar. They now have a decent toilet and separate wash room, clad with high quality mukwa wood doors. Helen's home is now safe for her children and dependents – offering them stability and security for the future.
Helen's appreciation of her new home is visible in the way she maintains its surroundings. She takes great pride in her home. When she has extra money, she purchases and applies cobra (floor wax) to polish and maintain her floors. She has also taken the initiative to place a few potted plants outside to beautify her yard space, and she also endeavored to find pastel paint for the reviews that frame her windows (as shown in picture 2, right). The family now sleep comfortably and they do not worry about shortage of air and excessive heat.
Helen places great value on education. She is delighted to report that, because of her new home, her daughter Leah (in brown uniform in photo 2, right) has been able to return to school. Moreover, the family have not been experiencing health problems associated with overcrowding and poor shelter structure. Helen is happy and feels safer in her community today because of the new home she takes pride in.
Thanks to the generosity of Irish Aid and our supporters, Helen and her family now enjoy a new-found sense of security and hope.
Thank you to everyone who has supported this project.