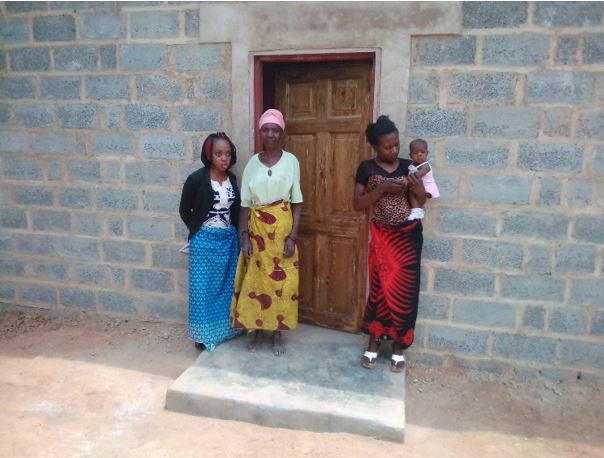 This project aims to promote equitable development and human rights amongst women, orphans and children made vulnerable by HIV/AIDS in Zambia. In August 2016, thanks to Irish Aid, and your incredible support, a new 3-year phase of this project began.
Meet Esther Nambaya (pictured above). She lives in a Habitat home in Twapia where she cares for her children and grandchildren. Habitat's Pamwesu project means that families like Esther's can stay together, feel protected and thrive.
During the course of this project, we are answering questions about the programme here on our blog.
This blog's question is:
How are the houses designed and where do the materials come from?
The house design used in the Pamwesu Housing Project is 9m x 3m in size (see the House Plan below). The house has three rooms, two of which serve as bedrooms and one as living room. This has no provision for an internal toilet and bathroom because there is no running water. The toilet and bathroom facilities are a stand-alone facility which is constructed within the plot. The structure is a Ventilated Improved Pit [VIP] latrine 2.5m x 2m.
Habitat for Humanity Zambia procures construction materials to build decent and durable houses for vulnerable families according to specified designs, from registered vendors. The organisation annually advertises to the general public through print and electronic media for business organisations or companies to apply to be included on Habitat's list of vendors. These may be from within the communities where Habitat works or from outside areas.
Habitat for Humanity Zambia has put in place a Procurement Committee, which comprises staff members from different departments, and its role is to oversee all purchases, including building materials. In terms of specifications and quality of materials according to the Bill of Quantities [BOQ], the Committee is supported by the Construction Supervisor and the Clerk of Works who are experts in that field.