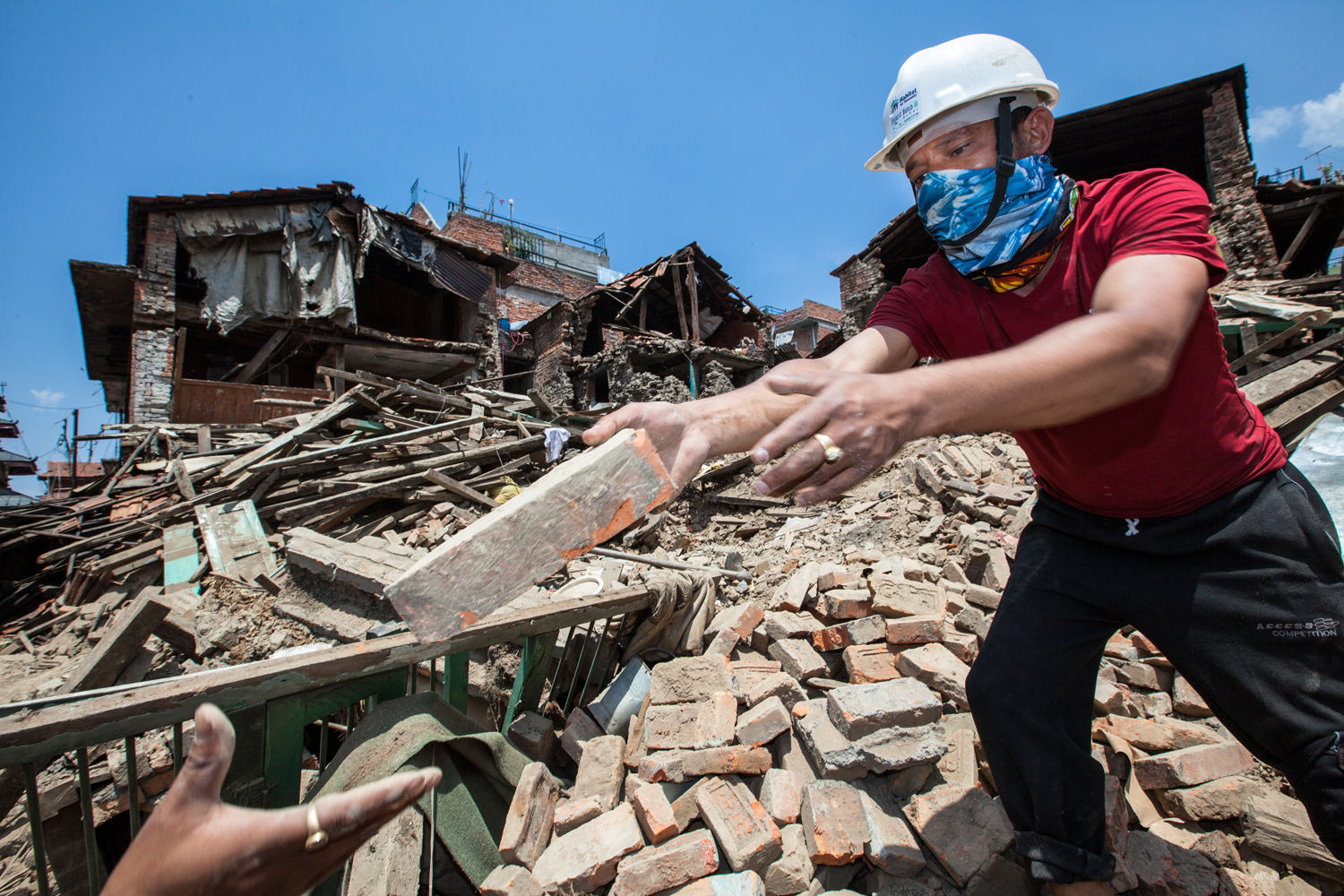 Upendra Maharjan (40) wasn't home when the devastating earthquake struck Nepal on 25th April. His two sisters and grandmother were.
"My sister Soya is dead… (another sister) is slightly injured and my grandmother is still waiting for surgery," said Maharjan.
Two days later, Maharjan and his neighbours started digging for their belongings in the debris. Now he is clearing bricks from where his house use to stand in Opi Tol, a town that's half an hour's drive from the capital Kathmandu.
Habitat for Humanity is working closely with his community to remove the rubble safely. 80 percent of traditional houses in the community have collapsed. Those still standing are full of cracks. Slanting buildings will be demolished by a bulldozer to be on the safe side.
On Saturday, 80 Habitat staff and local volunteers from the Nepal Scouts joined Maharjan and his community to work together to start to remove the rubble safely. They moved bricks and tiles by hand to clear a blocked roadway.
Residents joined the long human chain, handing bricks from one person to the next. When the bricks reached the end of the line, they were stacked up together, so that they could be recycled to rebuild homes.
"We don't want to throw everything away… We will save the bricks and wood so that the community can reuse it for rebuilding," said Geno Teofilo from Habitat for Humanity.
"I'm very thankful for you coming here today," said Dharma Govinda Maharjan, principal of a local secondary school. He is also the chairman of the town's disaster committee. "As a human race, we should come together and help, as you did. We welcome you with open arms, and we're happy that you came to help us at this moment."
The cleanup has begun, the first step in a long journey towards recovery.
Habitat has been working in Nepal for 18 years. We're determined to work beside the Nepali people on this long journey, first providing life saving shelter and, in time, rebuilding homes and lives. But we need your help to reach as many families as possible. Please give what you can today.