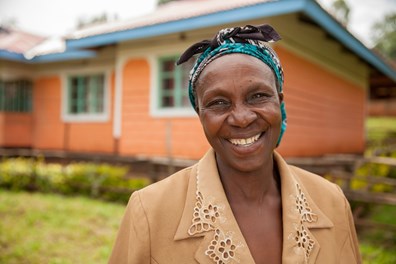 In the story of the feeding of the 5,000 in Matthew 14:13-21, we find a powerful lesson about meeting human need.
Upon seeing the huge and hungry crowd that had gathered around Jesus, the disciples lamented that it was getting late. Their suggestion was to send the people away. Jesus had a different plan.
He delivered a call to action to the disciples: "You give them something to eat." He could have taken the bread and fish and fed the 5,000 Himself. However, instead, He chose to involve the disciples by asking them to distribute the bread.
By urging the disciples to care for the people, Jesus demonstrated the power of sharing God's love. Our call at Habitat also is to active ministry that meets human needs. God calls us to be disciples — to be the means through which God's work is done in our world today.
I have seen amazing results of people coming together to put love into action over and over all around the world. A house built with love becomes a home that changes everything for a family and for generations to come. The power of God's love can break through even in the most unlikely places and circumstances when we join as faithful disciples seeking God's good intentions for our world.
God provides for our needs when we step out in faith. My husband, the late Tom Hall, who was the associate director of Habitat for Humanity International many years ago, reflected on God's miraculous acts in this story of Jesus:
"Rather than complaining about the meagerness of the resources, Jesus took what was at hand, thanked God for it and put it to work. Wonder of wonders, there was more than enough! I do not know just what happened on that Galilean hillside. I do know that when we take what is given and go to work with it to do God's will, the job can be accomplished."
Through our efforts at Habitat, God continues to take what we offer, bless it and turn it into the miraculous.
During this season of Lent, when we are focusing on the kind of "agape" love that calls us to act selflessly for the well-being of others, let us be mindful of the great things God can do through us.
Prayer
Gracious Father, make us ever mindful of the miraculous power of Your love and use us to do Your will, and Your will only. Amen.
Read more of our Lent devotions here.