I scoured websites, researched products, read labels and compared brands. I walked back and forth across the mall, up and down countless aisles and in and out of many stores and specialty shops — all in an effort to find that one perfect gift.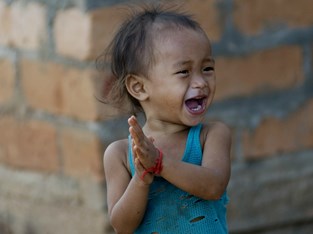 Why? So I could see my son's eyes grow wide and his jaw drop. I loved him so much. I wanted to hear him gasp and ask with amazement, "You did this? For me?"
Can't you imagine that God might feel the same excitement over our reactions to His great gifts? It's why God paints the sunrises and sunsets in glorious hues of orange and lavender. It's why He places a rainbow among darkened clouds and puts a song in the sparrow's throat. It's why He put a sweet fragrance in the rose and snow upon the mountains.
It's also why He offers pardon to those who are guilty and grace to those who are condemned. It's why He put a Savior on a cruel cross — so we could climb that rugged hill, look upon the scene and with wide eyes and amazement exclaim, "You did this? For me?"
God wants each of us to experience these feelings of love and worth. At Habitat for Humanity, as we improve living conditions, provide clean water and offer relief after disasters, we demonstrate God's extravagant love.
We are privileged to be a part of God's work in the lives of individuals around the world every day.
Romans 5:5 tells us that God's love has been poured out into our hearts. During this Lenten season, when we focus on "agape" love that calls us to act selflessly for the well-being of others, let us be thankful that we are recipients of God's greatest gift. Then, let us show that gratitude by serving others.
Prayer
Jesus, in this season of the cross, we are grateful to You for showing unconditional love toward us when we did not deserve it. Help us to pour out the love You have put in our hearts to help others. As employees and supporters of Habitat, help us, in this season and always, to show Your love, which is pure, unconditional and filled with grace. Amen.
Read more of our Lent devotions here.