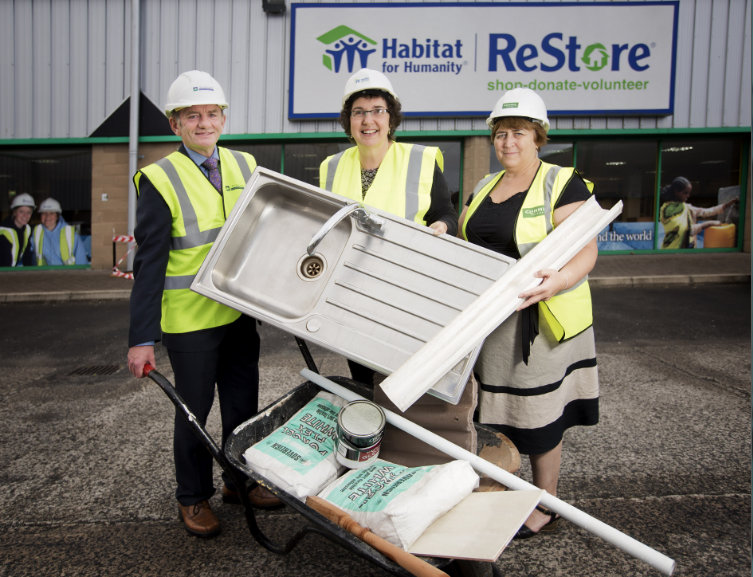 Habitat ReStore has joined forces with Clanmil Housing Association to ensure that building materials left over from the construction of Clanmil's social housing developments are put to good use.
Over the next three years, Clanmil Housing plans to invest £230m in building 2,000 new homes in areas of housing need throughout Northern Ireland.
The Association is encouraging the contractors appointed to construct these new homes to donate any surplus building supplies, which are generally discarded once construction is complete, to Habitat for Humanity's ReStore outlet.
Habitat ReStore is a low-cost DIY store which sells donated new and used building supplies and home improvement materials to the public at 50 to 70% of the normal retail price. Profits are used by Habitat for Humanity to support communities around the world by helping families in need to build homes and their way out of poverty.
Habitat for Humanity's first ReStore in Europe is at Riverside Centre, Lisburn and the range of products on offer incudes kitchens, bathrooms, furniture, bricks, paving, insulation, electrical goods, office furniture, and even the nuts and bolts to hold it all together.
As well as raising funds for Habitat's international work, the store allows local families to purchase low cost materials while at the same time diverting tons of waste from landfill.
T&A Kernoghan, who are currently building 95 new homes for Clanmil in Bangor and Newtownards is the first of Clanmil's contractors to sign up to the scheme. They hope to donate between £30k and £40k of surplus materials from Clanmil sites to ReStore over the next three years.
Clare McCarty, Chief Executive of Clanmil said; "Our vision at Clanmil is for everyone to have a great home so we are delighted to support Habitat for Humanity in such a practical way. While our focus is on building new homes for people in housing need here in Northern Ireland, the money raised by selling surplus materials from those developments will be put to good use by Habitat for Humanity helping people in some of the world's most disadvantaged countries to build homes and escape poverty.
"Meanwhile, local people will benefit from cut price building supplies, making home improvements more affordable. You could say that everyone is a winner!
"Well done to T&A Kernoghan for leading the way. We hope that our other contractors will follow their lead and become involved in this very worthwhile project too.
Jenny Williams, Chief Executive of Habitat for Humanity NI said: "We are delighted that Clanmil Housing Association and T&A Kernoghan's long standing commitment to partner with Habitat now includes support for 
Habitat ReStore.
"By donating surplus materials from their sites, Clanmil and T&A Kernoghan are reducing waste and doing their bit to create a sustainable Northern Ireland. By working together, we are serving the local community by enabling families to improve their home for less and raising vital funds to support families trapped in poverty around the word.
"We thank Clanmil Housing Association and T&A Kernoghan for their support and hope that many other companies will follow."
Warnock Maxwell, Construction Director of T&A Kernoghan said; "T&A Kernoghan ltd is more than happy to support Clanmil Housing Association by taking part in this initiative to donate surplus building materials to Habitat Restore.
"As a respected and long established builder of social homes throughout Northern Ireland, we believe that donating surplus building materials for such a great cause is an excellent idea which we know will ultimately benefit those in greatest need.
"This type of initiative is worthy of support throughout the entire construction industry in Northern Ireland and we are very proud to be the first of Clanmil's contractors to offer our support and help to Habitat Restore."
To learn more about Habitat ReStore click here.