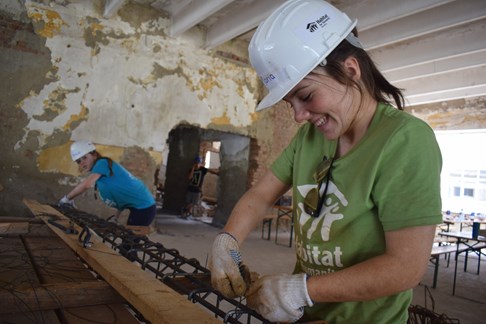 This summer, I volunteered with Habitat for Humanity as a part of the Youth Build programme. My team of 18 young people and 4 leaders travelled to Medias, Romania to work with the local community to improve the lives of those with mental and physical disabilities in the area.
I have always had an interest in ensuring everyone in our world has the fundamental human rights of: access to a home, water, hygiene, health and sanitation. However, I had never known where to start, or how I could begin to make a difference. I saw Youth Build as the perfect place to start. I needed to roll up my sleeves and put my own two hands to work.
I thought the fundraising may be daunting; however I found with generous help from my family, friends and resources and advice from Habitat, raising the £1600 wasn't too difficult. However, when I arrived in Romania, I found that fundraising alone just wasn't enough. Money, whilst essential to help those in need, isn't enough to drive sustainable change.
Since I've arrived back in home, I've been faced with countless questions about my Habitat experience. The most common question seems to be, "Do you feel like you made an impact?" I feel we absolutely did. The builders told us that our work was invaluable. We were able to complete the menial work, which freed them up to work on the more skilled aspects. Our manpower was so appreciated by those we were working with. However, the experience has also had such a profound impact on my life.
The highlight of my trip was definitely the people I was travelling with and met in Romania. From our team leaders and my fellow team members to the builders and the beneficiaries of our work. We bonded together as a team, and understood why we were doing the work. Our team proved that with a pack of cards or a wireless speaker, even the hardest days on-site, moving cement or shoveling dirt, can be enjoyable!
Sooner than I could realise, our 10 days in Romania were at an end. We sobbed, not only because we were sad to say goodbye to all the amazing people we had met, but more because we were upset to have to leave behind the many people who are facing such significant daily challenges.
Overall, I had a wonderful and extremely rewarding 10 days in Romania with Habitat, and I am so incredibly grateful for the opportunity I was given.
Would I recommend Youth Build? Most definitely.
You can get involved next summer, and transform a family's life through Youth Build like Maria learn more and sign up here or read more global volunteering stories here.