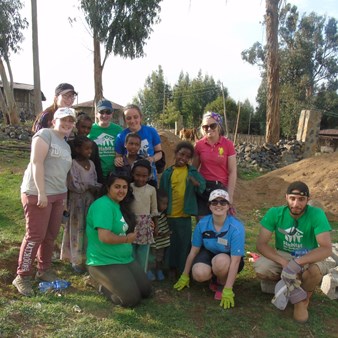 I travelled to Ethiopia in May 2016 to take part in a project in Fiche, North of Addis Ababa for the purpose of building homes for vulnerable families. I was part of a group of students from Ulster University and I spend the 2015/2016 year fundraising for my trip through different events such as a quiz, Christmas hamper raffle stall and a Just Giving Page.
Having never done anything like this before it was impossible to know what to expect, but this trip defied all my hopes and expectations. It brought me hope, gratitude, a fresh outlook on the world and an understanding on how a lot of other people live.
Each day we travelled to the site to work alongside local construction workers, Habitat staff members and the prospective home owners themselves. The work was hard and basic, there was no machinery and the tools were all handmade. Every day the work compromised of digging the hard clay ground, moving rocks, carrying building block upon building block, mixing cement, carrying huge loads of water and sand, and the art of bricklaying. The list goes on and on!
It was tough with not just the high altitude but the heat as well, but seeing the progress every day, combined with the strong work ethic of the prospective homeowners, was really motivational. The language in Ethiopia was Amharic, and with the Habitat team only speaking English, you would assume communication would be difficult, somehow though on site we actually were able to find ways to communicate with the locals, and we were able to build partnerships and friendships through our work every day.
What struck me most, and what I found most mind boggling was how the people were so happy and were always smiling; when they had so little and sometimes when they had nothing. At home in Northern Ireland there always seemed something to complain about and people spreading bad vibes. Ethiopia was a world apart where total strangers welcomed us with open arms (quite literally – there were a lot of hugs, kisses and handshakes involved every day!) and were delighted to welcome us in to their homes, to feed us, to help us build and to spend time with us.
Our time was focused on building but at the end of the trip we spent a day visiting existing and flourishing projects in Addis Ababa and Debre Berhan. Here we saw the massive improvements that a house or access to sanitation was making to people's lives.
Everyone we met was so grateful to Habitats work. A family home will provide an address, long-term shelter, safety and even the opportunity to grow vegetables or raise livestock and be self-supported.
When the trip came to an end, I wasn't quite ready to return to Northern Ireland I felt I had still more to give. I hope to continue my volunteer work in the future; and who knows maybe even return to Ethiopia. I've had months to reflect on my experiences now, and despite the hard work, I know the memories of the country, the people and everything I saw will never ever leave me.
To sign up for a Global Village trip like Laura click here, or to read more volunteer stories click here.