It is difficult to describe the massive effect Habitat has had on me. But, I will try. I went into Habitat with very little expectations other than to help a little and maybe learn a few construction skills. However, I have gained so much more.
I signed up to Youth Build knowing no one, even though I am a very extroverted person, I was still nervous. Many questions spiraled through my head. Will I meet anyone? Will they like me? Will everyone have other people with them? I decided that I would happily do this experience by myself (I couldn't have been more wrong). From the moment our group met at the residential, we clicked. From our group competitiveness in the games, to our deep chats after meeting each other just 4 hours earlier. I knew that we had something special. It all began to become very real.
Then the day arrived. I couldn't have been more excited and eager to get to Romania (which made the four hour delay at the airport even harder!) Even in face of an eventful journey, our group morale stayed high.
The first time we visited the work site, there was a significant change in the atmosphere, and you could feel the silence in the room. This visit made it very apparent that our group genuinely cared about why we were here and wanted to help.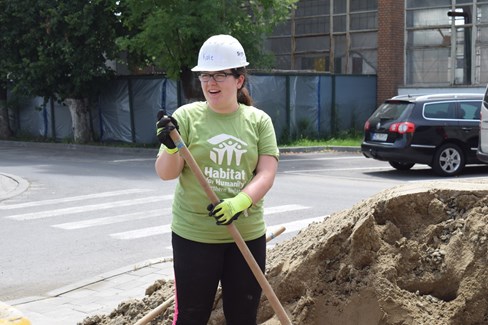 And then the real work began. We did everything from tying off reinforcement bars to mixing concrete. Even in the most tedious of jobs, our group made it enjoyable with singing and dancing, all while getting the work done. It even brought a smile to some of the builder's faces.  We could see how the simplest of jobs were helping the builders, freeing up their time to do the more skilled work. By the end of the week it was very rewarding to see what we had achieved, to actually be able to see progress. The walls we had built, the reinforcements bars put into place, wood cut and steps made. It was amazing to see the small part our group had in a much larger project. We were able to see the amount of time and effort it takes to achieve a set goal.
Each day on site, you could see everyone becoming more comfortable and getting into the swing of things. It almost became normal to wake up and go and work on a building site. Each night, we had team reflection. In the beginning, I thought it would be a quick 5 minutes of talking and we would move on. But they were so much more. Our team leaders managed to take the smallest thing and allow us to realise the much larger significance of it. It allowed us to see how much we take for granted. These reflections allowed us to form an idea of what this experience meant for each of us and also see what we could do in the future to help.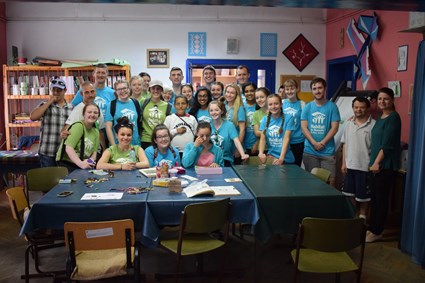 The work on-site was great, but it wasn't until visiting the beneficiaries that we realised the significance of this project. Phoenix Sperenta is a Romanian organisation which supports local people affected by mental and physical disabilities. This experience completely changed my trip, it turned the facts and figures of poverty into real people. It allowed us to be with the people we were helping, and see how similar we all are. The centre that we were helping to build will make huge improvement in many of the lives of people we met. It is giving them purpose and showing them that they are cared for and have a place in society.
The workshops are giving them real life skills that will motivate them do more and push them to their limit. In spite of the hardship they face, they still greeted us with smile. When meeting one of the beneficiaries, lluita, and hearing his story, how Habitat & Phoenix Sperenta have helped him.
I will never be able to comprehend the struggles these people go through each and everyday. But even in the short time I spent with them, it give me an immeasurable sense of appreciation for what I have. It made it clear that we must use what we have to help. It is not because I am superior to others that I have what I do. It is only pure luck. It has been made very apparent that I must use what I have to help others and if we want to see change, we must be the people to spark change.
I will forever be grateful that I was able to be apart of an amazing project with amazing people. We all went home, back to our ordinary lives. But, will always carry a little part of this experience with us and have all been positively impacted in realising how we can be catalyst for change.
You can get involved next summer, and transform a family's life through Youth Build like Kate! Learn more and apply here or read more global volunteering stories here.