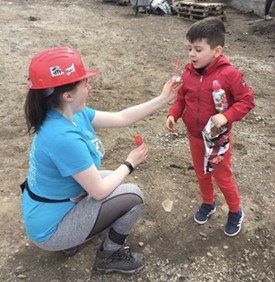 Before we started with our first full day on-site, we had our safety briefing. This was when it really hit us that we would actually be building homes! We started completing the tasks we had been assigned. With only the foundations dug, there was lots to do!
I did my best to carry out the work to the best of my ability, especially as I had no building experience at all! It was fun to experiment with all the different jobs the site had to offer and learn so many new skills at the same time. Over the course of the 5 days, I tried my hand at bending re-bars, mixing cement, digging and (my favourite) drilling. The local builders helped us in every way possible. They were so patient and quick to help us correct our techniques.
At lunchtimes, we had the opportunity to meet some of the local families who will benefit from the project we were working on. We visited a home that Habitat had helped build and heard the emotional stories of the homeowners. Even though they had so little, they always had smiles on their faces and couldn't be more generous towards us. We had formed genuine bonds with the local community over the course of the trip, and were so sad to have to say goodbye.
We also got to visit the Habitat Romania office and learn a lot about the work they do and where Habitat works all year round on life-changing projects, even when volunteers aren't there.
In our spare time we had the opportunity to see some of the country's culture, eat Romanian food and get a glimpse of what life is like for the most vulnerable. We even got to meet the Mayor of Comanesti, who was extremely grateful to have us and invited us back anytime!
Our team bonded fantastically over the course of the project; a random group of strangers had become important people in my life, as we shared many memories and life-changing moments together. I'm so glad that I stepped out of my comfort zone and volunteered with Habitat, I'd recommend everyone get involved in some way.
You can get involved in 2020, and transform a family's life through Youth Build like Julie! Learn more and sign up here or read more global volunteering stories here.