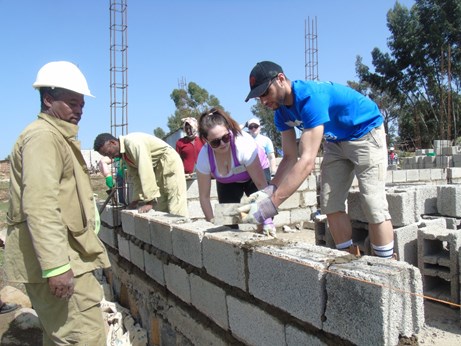 Global Village was a very positive and fulfilling experience for me. Most importantly I remember how the people of Addis Ababa, Debre Berhan and Fiche were being helped by the work Habitat has done and continues to do in their communities. It was an amazing experience to be in Africa and to become immersed in the culture, food, sights and sounds.
A key memory of mine is being surrounded by a very different kind of perspective and worldview. This is because although we share planet Earth as one human family, there are many different ways of being in the world and working together.
On reflection, I've learned many things both during and retrospectively regarding my Global Village experience – this is aside from viewing it as probably the best thing I've ever gotten involved in and done.  Poignantly, I remember first-hand how hard regularly seeing sick and hungry people was due to the scale and acuteness of humanitarian need prevalent in Ethiopia.
Despite this, what's significant is the many ways in which I think the locals were far richer, stronger and more generous than we are in The West as community life was so strong and gave people purpose, direction and meaning amongst life's many peaks and troughs.
An example of this would be the daily coffee ceremonies that we attended each morning whilst building on site. They acted as more than a mere ritual (where I came across the best coffee I've ever tasted), instead they were a way to gather everyone together and unify them through conversation, storytelling, news sharing or simply by providing an opportunity to reassert their solidarity by spending time in each other's company.
Ultimately, I've learned how to actively apply my Christian faith and to put it into action. I believe God is love and I treat it as a verb. Therefore, I believe we show our love by the things that we do and by displaying compassion for others through the way we lead our lives. 
To sign up for a Global Village trip like Jordan click here, or to read more volunteer stories click here.