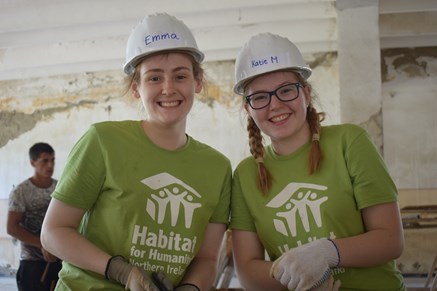 In June 2017, I set out for Romania with Habitat for Humanity, feeling a little apprehensive - this was a whole team of people I barely knew and I honestly didn't know what to expect.
On our first day we visited the building site and found out a little more about our project – a collaboration with the Romanian organisation Phoenix Speranţă to provide training and support to people with disabilities, as well as accommodation for those who didn't have a place to call home.
And then we got to work.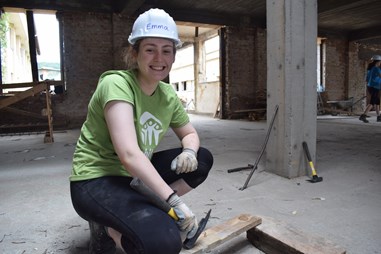 Over the coming days we really buckled down, working as hard as we could - learning new skills and getting to know each other and the local builders too. We laid bricks, made reinforcement bars, mixed concrete and everything in between! It was amazing to see how much we could achieve when we put our minds to it and worked as a team. Nothing compared to the sense of solidarity and satisfaction we felt as we laid down our tools every evening.
As quite a quiet person, I was worried about bonding which such a large group of strangers, but a few card games and sing-songs later and it was like we'd known each other for years! As the trip progressed, the new experiences we shared and the thought-provoking reflections from our leaders (shout-out to Alan in particular!) brought us even closer together. They're honestly some of the most genuine and enthusiastic people I've ever met and I'm so glad I got to share this wonderful opportunity with them.
I enjoyed every minute of my Habitat trip, but without a doubt the day which had the greatest impact on me was when we met some of the beneficiaries of our project. On the Tuesday morning we headed to Phoenix Speranţă in Medias to find out more about their amazing work in giving those who don't have a place in Romanian society a sense of purpose and belonging. The smile on everyone's face proved it and with the help of our project, so many more vulnerable people will be able to build themselves a better future. Although the organisation's work was inspiring, it wasn't this which impressed me most - it was the attitudes of the beneficiaries we met.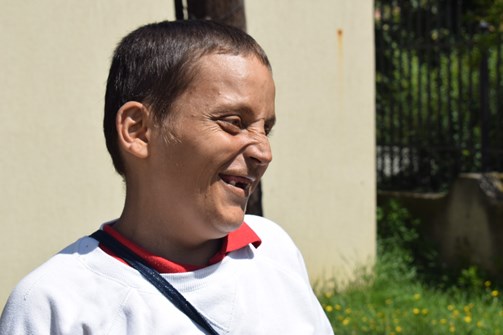 One person who particularly touched me was a man named Iliută, an orphan with severe learning disabilities. He was so happy and excited to meet us - coming up to shake hands with every one of us, posing for every photo and even wanting to come home with us! His positive outlook despite the hardships he faced is something which will always remain with me.
Although I went into this trip feeling a little nervous, I'm so glad I signed up for it. It has undoubtedly been the most positive and fulfilling experience of my life so far and I can't wait to see the project finished. I had an inspiring time with wonderful people and it definitely won't be my last experience with Habitat!
You can get involved next summer, and transform a family's life through Youth Build like Emma! Learn more and sign up here or read more global volunteering stories here.