Jetting off to Malawi with a bunch of volunteers on behalf of Habitat for Humanity was hands down the most amazing and rewarding experience of my life. In July 2016, 12 of us went to Salima, Malawi for 2 weeks to build homes and hope for those most in need. I can't explain the joyful feeling waking up each day knowing that you're going to help build a house and make a difference for a family that have nothing, and just to hear their stories is utterly amazing.
Every day brought new adventures and wonderful experiences I will hold tight to my heart but I have narrowed it down to my top two moments.
When we first arrived, we were talking with the family who would be building the house for: a woman with 4 kids, whose husband died just a few months before we arrived. She explained that she had to teach her kids to sleep standing up. This was due to the monsoon type rain that would completely destroy their grass roof and would soak everything in their house. So if they stood in the corners they might be able to get some sleep.
She highlighted that this was the thing she was most excited about. Imagine if you, or your family, didn't have a decent place to sleep on a rainy night. It was something I hadn't even thought about and to see her get so emotional about how much the new house will make a difference to her life was something that really made me appreciative of all that I have at home.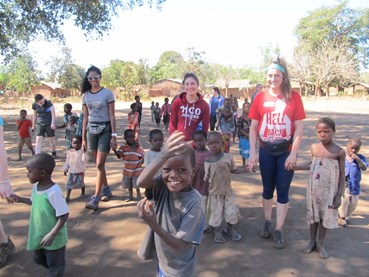 Secondly, on arrival the way we were greeted by about 100 children and their parents who all sang and danced for us. To see how friendly and kind they all were was a true blessing, especially given the conditions they live in on  a daily basis.
I felt so comfortable, and the children were absolutely great. Such life, fun and brightness beaming out of them all made me feel so happy and privileged to be a part of it.
One of the Malawian Habitat leaders said something so true at the end of the trip that it will always stick with me, "In the western world people have watches but have no time. But in Malawi the people might not have watches but they certainly do have time".
The thanks we got at the end made me incredibly emotional and I hope to return to Malawi again, as although the children of Salima can't touch my hands anymore, they will always touch my heart!
To sign up for a Global Village trip like Ellen click here, or to read more volunteer stories click here.