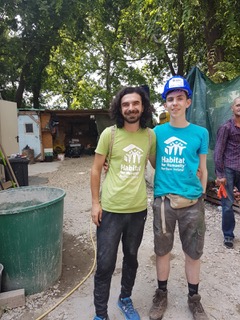 In July 2019, I volunteered with Habitat as part of the Youth Build programme. My team of 18 young people & 4 leaders travelled to Buftea for 10 days to support Habitat's project, building a community centre.
Work began almost as soon as we hit the ground, with our first full day being spent on site. After a safety briefing, we set about doing the tasks we had been assigned. Being a large, two-storey building, there was lots to do! I did my best to carry out the work to the best of my ability, especially as I had no building experience. It was also fun to experiment with all the different jobs the site had to offer.
Over the course of the 10 days, I tried my hand at cleaning wooden planks, mixing cement, plastering, cement smoothing, painting and much more. I cannot pretend that I was a natural at any of these tasks, but thankfully for those who will be using the building, I was well advised and instructed by the local builders. They were so patient and quick to help us correct our techniques.
At lunchtimes, we had the opportunity to meet some of the local children, who will benefit from the project. Whilst they didn't have many material possessions, they always had smiles on their faces and couldn't wait to play. I tried to learn some basic words and phrases to overcome the language barrier, but at the end of the day, it was not the language that was important. We had formed genuine bonds with the local community over the course of the trip, and were sad to have to say goodbye. Whilst we could not understand what they were saying, it was clear that they were deeply grateful for our support, and would not forget us anytime soon.
Away from the site, we also had the opportunity to see much of the country, sample Romanian cuisine and get a glimpse of what life is like for the most vulnerable. We were fortunate enough to be invited into the homes of two Romanian families, and see first-hand the housing issues in the country. It is all very well reading the statistics, but it is not until you are confronted with the reality that you can appreciate how necessary projects like this really are. Habitat works all year round on life-changing projects like the one in Buftea, not just when Youth Builders travel.
Our team bonded fantastically over the course of the project, and we were very reluctant to part as we landed in Dublin; a group of strangers had very quickly become one of friends. But as we said our tearful goodbyes, we all felt privileged to have been a part of the project, and to have made a real impact on the lives of those less fortunate than ourselves. And that is something far greater than any set of photographs can ever reflect.
You can get involved in 2020, and transform a family's life through Youth Build like Declan! Learn more and sign up here or read more global volunteering stories here.