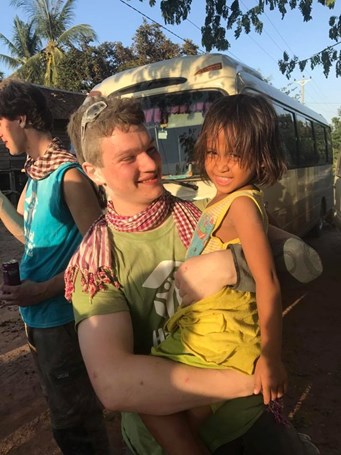 It's easy to talk about going somewhere like Cambodia with Habitat, to support the work that goes on there every day. It seems like a nice thing to do. Many people would consider doing it.
But the reality is something else.
It's a life-changing, thoroughly emotional and even spiritual experience that leaves you feeling greatly changed.
In Cambodia the cities are fairly developed.  This made the culture shock of visiting the much poorer villages, outside of the city, all the greater.
We spent two weeks in Cambodia, and during that time our team bonded closely with each other, and with the local community that we worked alongside. From our Habitat host co-ordinator Pak to the translators and the skilled workers helping us build, we became firm friends with many of the people there. It still stuns me thinking about how kind the entire community was to us, and I promised the village on the last day that I would return home and tell everyone here about the kindness of the Cambodian people, so I am glad to have this opportunity to do so.
The process of building began on a Saturday afternoon, and it was a very difficult opening few hours. We returned home that day struggling, and many members of the group, myself included, wondered how we could do a whole week and more of this. But once we got back into it, the resilience of the group showed, and everybody from the eighteen year old girls to Paul, the oldest member of our group, showed the steel that inspired them to come halfway around the globe by putting everything into their work.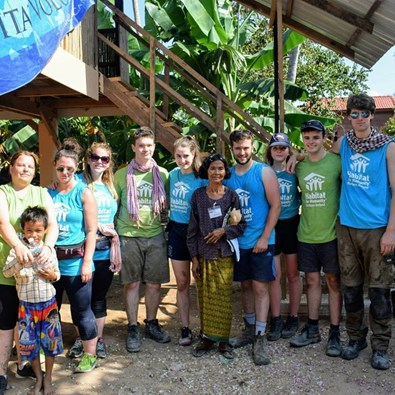 I wish I had time to speak about everyone in our group individually, but I can only give a snapshot about how tight-knit our group got. There wasn't a person on that team that I wouldn't meet up with now and chat about everything that happened. We all became friends and for such a diverse group of people, that was an amazing feat considering the short period we were together. I met people like our group leaders Jeannie and Briege, who cared for us all like a pair of parents, and did a fantastic job of it too. I met David, who ended up being one of the most inspiring people I think I've ever met, and his mother Barbara is one of the strongest women I'll ever know.
The thing you have to realise if you're considering a Habitat trip to Cambodia, or any other country, is that it's an investment. It does often seem like a huge goal when you initially set out to fundraise, but a couple of days into the trip you forget all that hardship and are ready to go home and start fundraising all over again, to help continue the work. There aren't enough adjectives to describe the experience like it really happened, it is something truly incomparable and I've no doubt in my mind that this will not be my last time working with Habitat.
There is nothing like the look on a person's face as they gaze upon their new home. You will feel true accomplishment after going on a trip like this. By the end of it all, I was thanking the people of the village for allowing us to come and make such a difference. In many ways, you'll get more out of the experience than those receiving a home.
To sign up for a Global Village trip like Chris click here, or to read more volunteer stories click here.