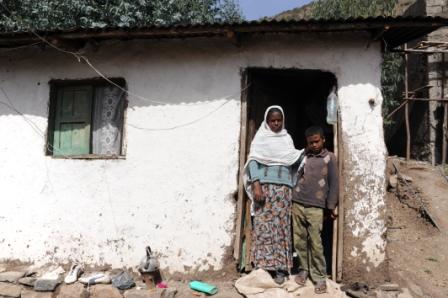 Truwork Molla is the head of her household and cares for her two sons 13-year-old Habtamu and 17-year-old Zewdu. Truwork and her family lived in rented accommodation for 14 years.
Like many Ethiopian families, Truwork's had problems accessing clean water with the closest water point located 400 metres away. There were also problems with sanitation as the toilet the family used was a communal one shared between many houses meaning infection could spread quickly among families. As well as this, the rent was expensive costing 200 birr per month. Truwork supported her family by trading used cloths, earning an income of just 700 birr per month. There was also the danger of dealing with private landlords who can increase house rent without notice.
Becoming Habitat homeowners gave Truwork and her family a greater sense of security and stability, knowing their rent would not be increased without notice. "I am happy to have my own house finally. I am soon to be free from private landlords."
Habitat for Humanity has served over 2000 families in Ethiopia, helping families like Truwork's have a safe, decent place to live and gain access to water and sanitation.
Click here to donate to support the work of Habitat.
Click here to find out more about Global Village opportunities in Ethiopia