I had the privilege to travel to Romania last week, meeting colleagues from Habitat Romania in Bucharest to talk about Big Build 16 and then travelling on to Bacau where preparations for this year's build have already begun.
My first visit to Romania was in preparation for the first Big Build in 2009 celebrating our partnership with Habitat Romania and drawing attention to the growing, urgent global need for housing – Building Louder.
Right from the beginning the beauty of the landscape, the warmth of the people and their sense of humour made me feel right at home.  5 million Romanians live in totally inadequate housing and for so many hardworking families Habitat has been, and will be, an opportunity to build hope on the solid foundation of a simple home.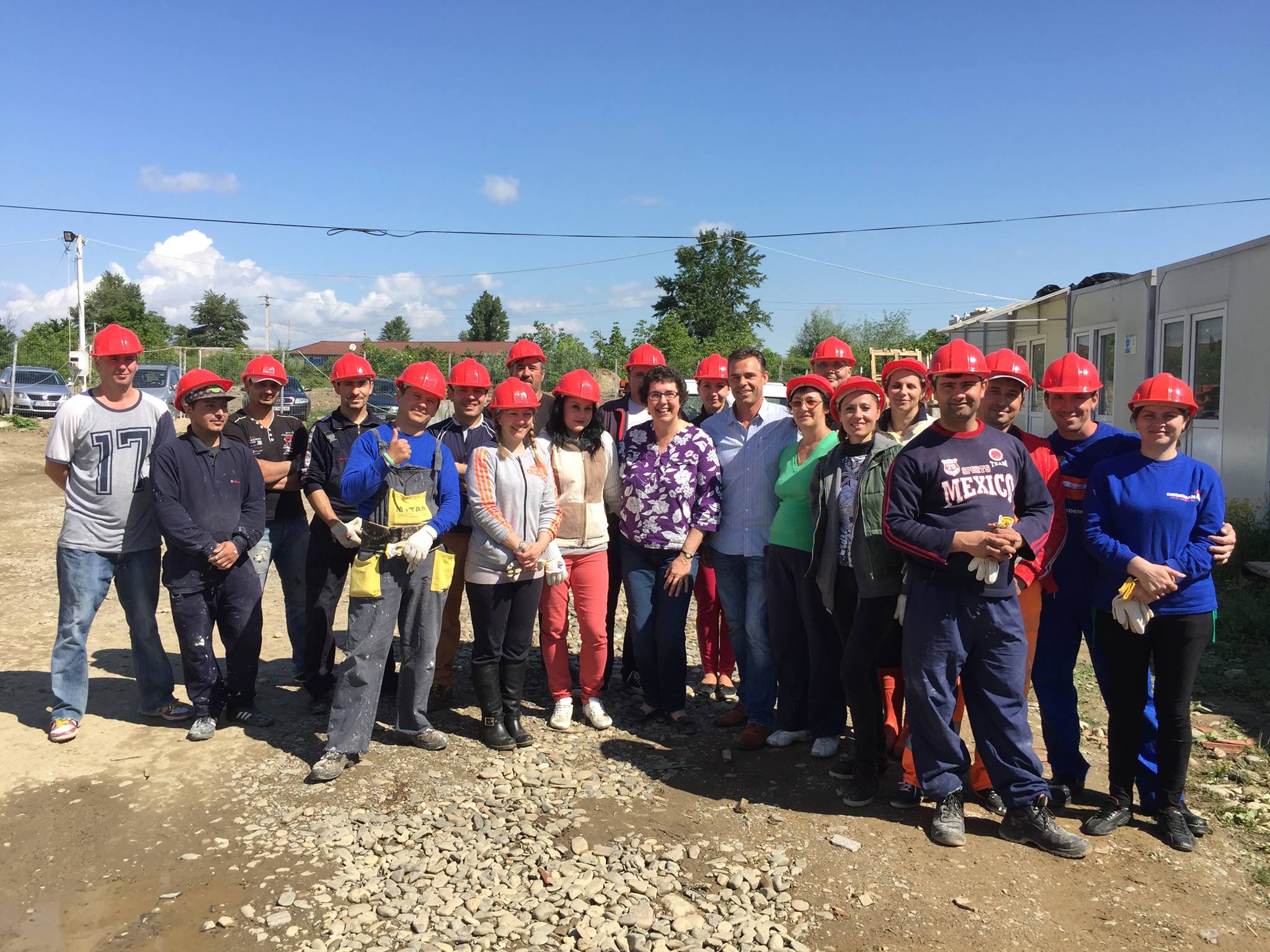 Lived in and loved
Onsite in Bacau I was first of all struck by the 8 solid homes which were completed during last year's Big Build. Pathways complete, children were playing outside and parents coming home from work. Home –  places of their own which they can afford and where families can grow. I was quickly invited inside to see the change since last October – simple and affordable – lived in and loved.
I also met families working onsite as part of the pre-selection process for 2016. I was able to hear some of their stories; no chance of a home, moving 7 times in 10 years because rents went up and weren't affordable, living with parents in cramped conditions, no toilet. Every Big Build family will invest 1000 hours to build their own home and that of their neighbours and they will pay back at an affordable price, usually around 90 euro a month in the context where one room in a block with shared toilet can cost more than 120 euro.
It was obvious from the minute we met Marius that this opportunity means everything to him, and as he shared his story we understood why.  Marius isn't very well, last year while helping his neighbour move furniture he fell and in cracking a rib punctured his lung needing emergency surgery. Marius also has cancer and though he seemed to be doing ok for now his experience and an uncertain future has made him determined to provide a sure foundation for his lovely children.
Low-Income
Marius invited us to see where he lived with his wife Margareta and children Stephan and Denisa who are 9 and 6. Margareta works in the local hospital as a seamstress, and the family survive on her income together with Marius' small invalidity pension.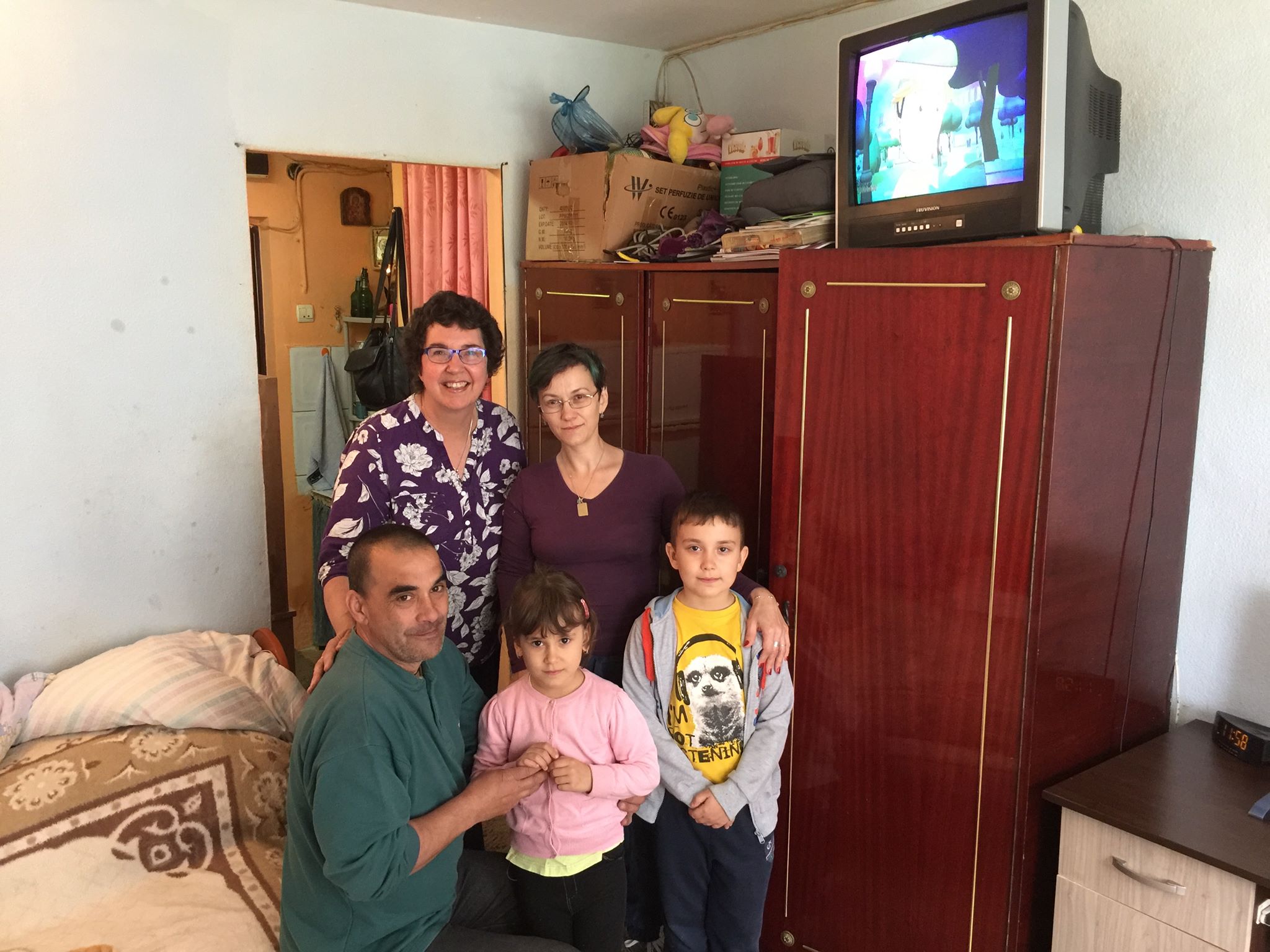 I am writing in my office and as I think back to that visit last week I know their home is about this size, maybe a bit longer but also narrower. Everything was spotlessly clean but there was only one chair so we stood because I didn't want to sit on their bed. One bed for the whole family, Marius explained how they slept and I looked up to the small TV on top of the wardrobe and thought it must be hard for the children to look up so high to watch. There wouldn't be space for it to sit anywhere else and there was only a wardrobe and a chest of drawers for the whole family. I thought about how much clutter there is in my house that I don't need!
Emotional 
Marius was emotional as he explained about his hopes for the future, he wants his children to have a better chance in life. He was very keen to share about how good the school is and show me the small desk – where Stephan does his homework; that is so obviously a priority.
I didn't want to intrude but Marius and Margareta insisted on showing us the toilets and showers which are shared between 18 apartments on their floor. The 3 squat toilets were clean but naturally show signs of the every day use of so many people and when you are in a rush it must be tough to queue!
Margareta explained that it is really hard to wash the children with no bath and only 3 of the 6 showers actually work. Again queues are a challenge at busy times of the day.
Hardworking 
It was an emotional visit, Marius and Margareta are hardworking people who want to grab this opportunity to change their lives forever.  Their hopes for the future are no different from ours, if you want to have the joy to help them and 39 other families why not join us for Big Build 16.
Home is the start of it. 
Learn more and sign up to Big Build 16 here.