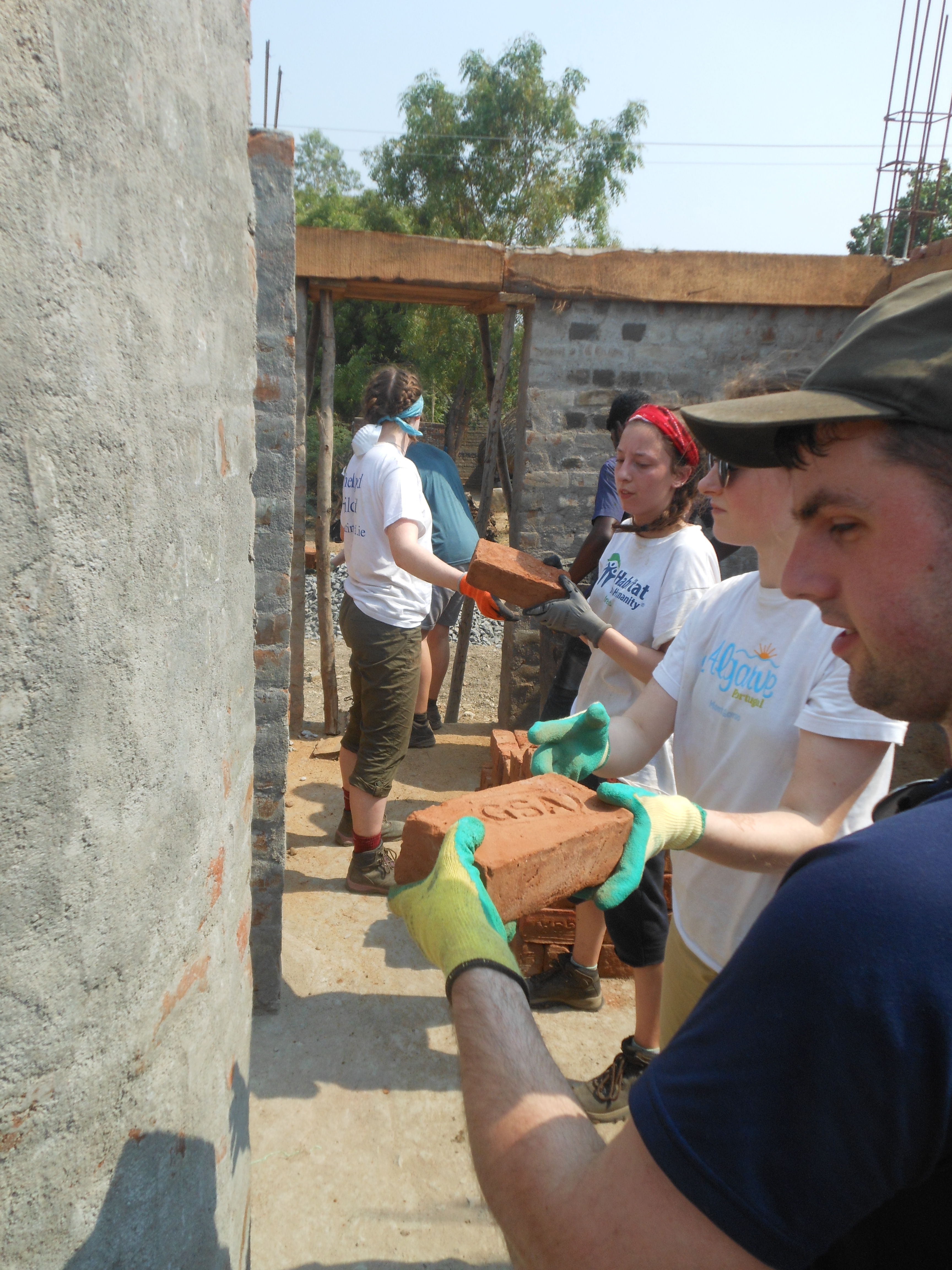 The team eagerly rose at 6:30 on Monday morning, more than ready for our first day of building. After a hearty breakfast and interesting yet seemingly endless bus journey, we were greeted with a crowd of beaming smiles in the village of Kappiyampuliyur. We could not believe the warmth with which we were welcomed as we descended from the bus, villagers immediately flocking around each of us, holding our hands and asking us questions with what little, but impressive, amount of English they could speak. The main language spoken is Tamil, a difficult language, but one we all tried to pick up a few phrases of.
As part of our welcoming ceremony, the locals danced with us and gave each of us a garland of flowers as well as putting bindis on our foreheads. We were then led through the village and greeted by those who had stayed in their homes, ending finally at the tent we would be using during our breaks. I (and, I think, most others) was surprised and humbled by how honoured and ecstatic each member of the village seemed to be to have us there for the following week.
After settling, we were introduced to the family at the first site at which we would be building. In total we worked on five different houses during our week; each had been started and built up by the three teams that had been out before us. We were the fourth, and the fifth team would be completing the houses for the families to move into. Some of the families had only one parent and each had a child with some form of disability. We saw the hut in which one of the families was currently living, and I think we were all struck then by the severity of their situation, and each of us had a greater motivation to work to the best of our abilities. We were aided on site by a few local men, who showed us how to mix cement, which we passed in chains up to a builder who poured it and laid the bricks. During this time "when" became the in-joke word of the worksite. The work was undoubtedly a difficult task in such extreme conditions, but each of us thoroughly enjoyed pushing ourselves for something we knew was going to make a positive difference.  
As well as building work, we were able to visit a local school where, to each child, we gave a copybook and some stationery. They sang for us and we then got everyone into a circle where various team members led songs and dances such as the 'Hokey Pokey' and 'Twist & Shout'. On one or two of the days, we split into groups where some of the team built and the others painted in the school. We designed a large mural with alphabet pictures and words, and re-painted blackboards in the classrooms.
Our breaks were spent playing with and getting to know the children that would come to the tent each day, something that was, for most of us, one of the highlights, if not the highlight, of the trip. We were struck by how happy and energetic each of the children was, despite having so little. Though there were few words we could share between each other, things as simple as playing a clapping game or throwing a ball grew between us a connection that made the final day an emotional one.
After finishing the last of the required work, both in the school and on site, we gathered with the villagers at the tent where we danced to energetic Indian beats before settling for the closing ceremony. Children in small groups performed for us traditional Indian dances and we, in turn, sang for them 'The Fields of Athenry', 'Amhrán na bhFiann' and 'Riptide', led by Stephen on the ukulele. We presented to the families and to those who had helped us tokens of our appreciation, and speeches were given, translated by Jason [a representative of Habitat India].
It was undoubtedly an incredible and unforgettable experience, and on behalf on the whole team we would like to thank Mr Barry, Ms Browne, Ms Gray, Mr Tevlin and Mr Middleton for making it the trip that it was. We would also like to express our thanks to those who helped with the challenging task of fundraising. It was a hugely impactful experience and one we would recommend to anyone to do, should the opportunity present itself.