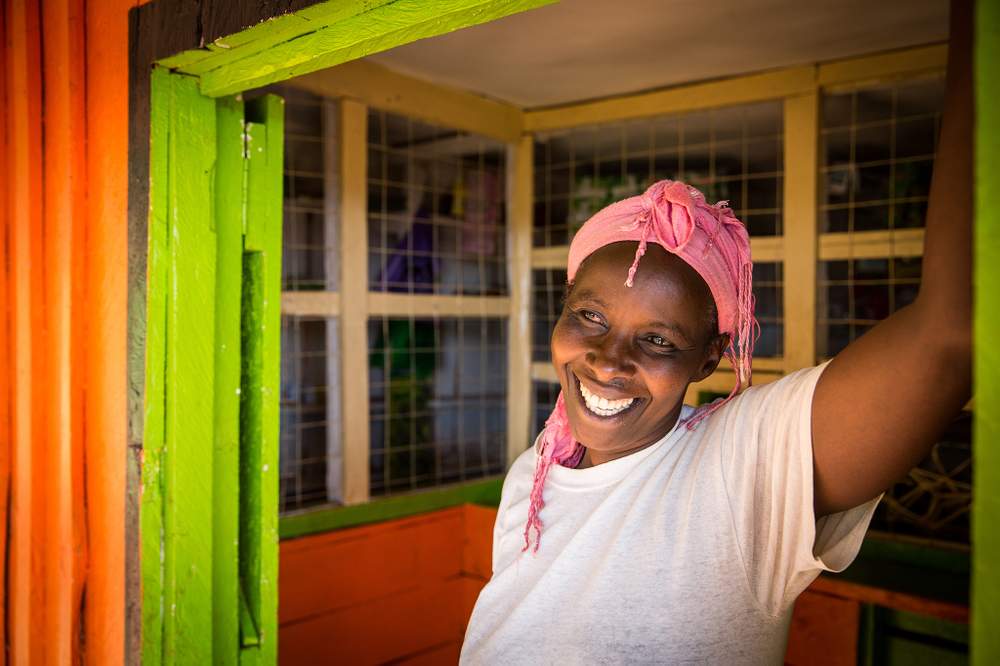 It all began when Jane was the treasurer of the Kaplegetet, a local saving group. Numbering around 40 members, they approached Habitat for Humanity Kenya about how to improve their circumstances. Over a period of months, the group participated in regular financial literacy sessions on topics like opening a bank account, how to create a budget and managing debt. The training, funded by City Group, has been rolled out to 1,655 homeowners across Kenya.
Soon, Jane was able to exploit her homestead's economic potential. She took out a loan and repaid it by working the land harder, growing new crops and even building a neighbourhood shop.
"The training taught us how to open a bank account and financial services. We might even be considered for a loan. I thought that if I could take out a loan and repay it, I could also earn money to educate my children," Jane said. That led her to raising further revenue from selling her cow's milk and growing tea and potatoes to be sold at her new shop.
"We didn't teach Jane to do business," said Acquilus Peter Barasa, Habitat Kenya's program officer for the nationwide training scheme. "All the training did was help to iron out the inefficiencies in what she already doing."
However, Peter acknowledged there are cultural hurdles Habitat Kenya had to overcome. Some parts of the Kalenjin community, of which Jane is a member, fear they may lose their precious cattle and land if they take out a loan. There is also a belief that if a loan is not repaid during an individual's lifetime, it will come back and haunt the surviving family members. The Habitat training has helped rural Kenyan communities to overcome such fears.
However, Habitat faces another cultural obstacle regarding traditional gender roles. "In Jane's community," commented Peter, "it has always been the responsibility of the man to take a loan. It can be very difficult to get a man to give his wife permission to attend meetings and become a beneficiary." Jane, however, manages the family's finances because her husband works away from home.
Until her new home is finished, Jane and her family still live in their old house with walls of mud and the floor made from cow dung. It is inadequate for her family's needs and difficult to maintain. "No matter how clean the clothes are," she said, "they must always be dusted before anyone wears them. When my husband comes home, I have to make sure his clothes are free of dust before he leaves for work."
The new home, when it is completed will solve another looming problem—the lack of privacy. "I am afraid when my children (of opposite sexes) get to their teenage years and must sleep in the same room," she said. "Furthermore, my husband and I have no privacy in our own room since the younger ones sleep in the living room, which is just a door away."
Jane's new house is being built just a few feet from the porch of her old home. It has concrete floors and walls, a roof of corrugated metal, and more rooms with doors between them.
"I was able to start building a house after attending the training Habitat Kenya offered," Jane says proudly. "It was an eye-opener to learn we could build a decent and affordable home. Building a house such as this has brought joy to my family. My children can now bring their friends over to visit. I am also proud to welcome visitors to my house. My self-esteem has been greatly boosted by having a decent house."
However, Jane and her family are still US$1,000 short of completing their new home. They require one final loan."We have not moved into the house yet as we still have a few things to do, such as fixing the doors and painting. Culturally, we are not supposed to move in before the house is completed."
Jane is grateful for the financial security she learned from Habitat. Before opening a bank account, most people saved money by putting bank notes under the mattress, which made it easy for thieves to steal or be eaten by rats. Seeing her income increase, she now looks optimistically to the future. "Some day, I would like to have electricity and piped water in my home. I also hope to expand my shop and build a beautiful kitchen."
Jane Boit has taken charge of her life. The financial literacy training has given her and the members of her saving group the confidence and life skills they needed to improve their lives and build new homes.