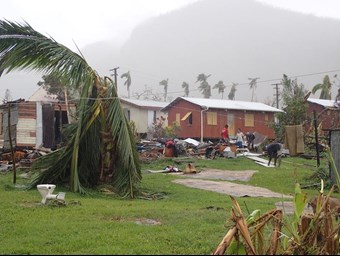 Just over a week ago communities in Fiji were left devastated in the aftermath of Cyclone Winston. The category-five storm, among the biggest ever to hit the southern hemisphere, caused severe damage to homes in its path.
In the midst of widespread devastation, Habitat homes (pictured right) remained relatively unscathed from severe damage.
We were delighted to hear from Susana Momolevu, a habitat homeowner, in the wake of Cyclone Winston. She explained "I feel safe and secure inside the Habitat house. We have 16 houses on a hill here and all are still here-it's strong and we thank the Habitat team for keeping us safe'.
Habitat has been working in Fiji since 1991, helping over 4,900 families to build homes and hope. Our staff are already working with the government to carry out damage assessments. We are getting emergency shelter to families who need it most and will help rebuild over the long-term.
There are so many families in great need of your support, please give what you can. Donate now.