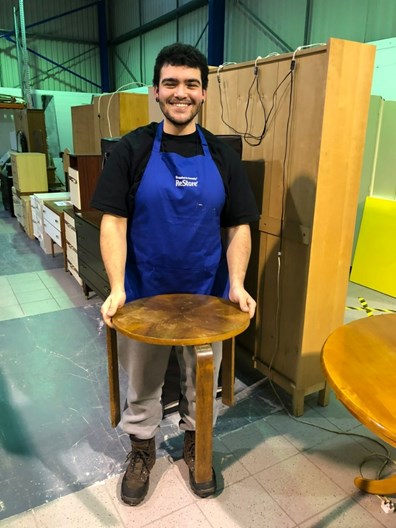 The European Solidarity Corps (ESC) programme has been immensely positive for Habitat, and for the communities we serve through Habitat ReStores and our House to Home programme. Volunteers from across Europe provide hands on help for local people and the programme offers an enriching experience for the young people as well as our staff team and other local volunteers.
We asked Alejandro, who volunteered in Habitat ReStore Ballymena for more than a year, to tell us about his experience.
What skills, qualities or experience do you think you brought to ReStore?
My physical strength has been a benefit as it means I can provide Joe (Volunteer Supervisor) with the help and support he needs when he is out collecting furniture and DIY materials. Some of the items we collect can be very heavy!
What was your favourite task in ReStore?
My favourite task is going out in the lorry and seeing different parts of Northern Ireland. On any given day we can be at the seaside in Portstewart and then to the hills and glens of Glenariff.
What have you learned during your time in ReStore?
I know how to operate the till, which is important for the daily operation of the store. I have also improved my social skills. I can be quite quiet with people I do not know and in ReStore you certainly meet a lot of people.
What surprised you about working in ReStore?
The amount of wonderful things that people donate and how the ReStore team really is a great bunch of people who very quickly become your friends and extended family.
What was your favourite ReStore memory?
There are lots of them. Very hard to pick. Any time spent with the other volunteers is a good memory. I particularly enjoyed our Dander for Doors.
What's the thing that inspires you most about Habitat's work?
That every single minute you are volunteering you are helping someone in the world.
To learn more about the volunteering opportunities available in ReStore click here, or you can read more volunteer stories here.