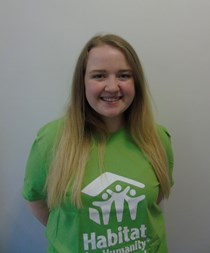 I'm very excited to be heading off on my very first build with Habitat for Humanity! And this is no ordinary trip! On the 1st October myself, and 40 other volunteers from Northern Ireland will be travelling to Romania to participate in Big Build 2016!
An annual event started in 2009, Big Build focuses on building homes for disadvantaged families every year, and this year is bigger than ever! 2016 is Habitat for Humanity's 40th birthday, and so this year's Big Build will serve 40 families in 1 week! 
The Hongu family, Elena and her son Darius, will be one of the 40 families whose lives will be changed by Big Build. Watch their story below:
While many people would not consider our European neighbour to be a very poor country, the statistics are staggering. 51% of Romania's children are living in poverty. 8.5 million Romanians have no access to a bath or shower or running water.
This year Big Build will be returning to Bacau where, like many across Romania, low-income families are unable to secure a mortgage. Families wait on social housing waiting lists for years. As a result, many live with extended family members in overcrowded conditions. Children do not have space to study. Parents have no privacy.
Big Build 2016 is focused on giving 40 families a 'hand up' out of poverty, building alongside them for a week to better their lives and help them start on the road to self-recovery.
To learn more about Big Build '16 and the work Habitat is carrying out every day, click here.