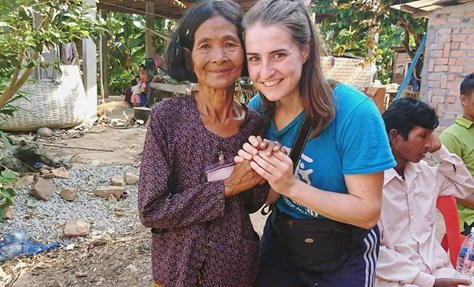 What is home to me?
HOME is a safe, loving environment that I can learn to grow in. It's somewhere that accepts all my emotions and where I can go to be completely myself. If I want to go to bed, I have a beautiful bed to snuggle into. If I want to watch TV, there is flat screen. If I want to have a snack, there is a fridge full of lovely food. If I want to talk about anything, my family are there with open ears.
All this is only possible because of my safe and secure place that I call my home.
Following my visits with Habitat for Humanity to Malawi, Cambodia and lately to Romania, I will never take my home for granted. I am incredibly blessed, as without my home I would not be where I am now; healthy, happy and studying for my final exams in medicine, and I would not be the same person I am today! For all this, I am so grateful.
However, sadly this is not the case for everyone. Throughout my Habitat journey I have met many different women all with the same goal – to live a healthy and happy life in a safe and secure home. But this not always a possibility. Read about Mrs Phann, a Habitat Cambodia homeowner, in my exhibition submission here.
This October, as part of the inaugural One World Festival NI, Habitat will launch a photo exhibition, to highlight the inequalities in housing faced by women around the world.
Share YOUR story with us, and raise your voice for those women facing challenges around the world. We would also love to have you join us for the launch of the exhibition learn more here.